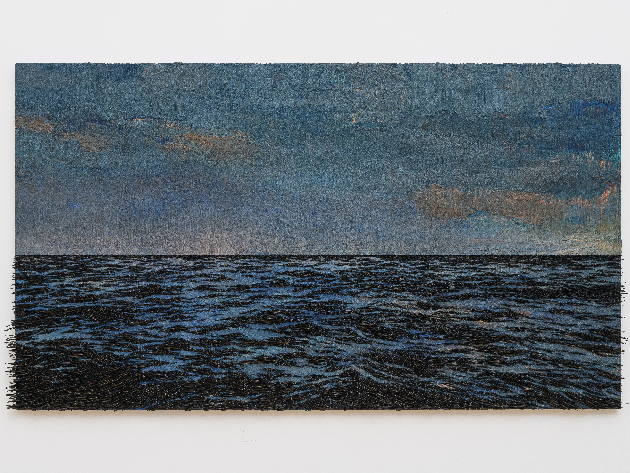 The Galleria Continua, inside The St. Regis Rome hotel, hosts the first solo exhibition by the Cuban artist, one of the most successful in the international contemporary art scene.
On display are a series of paintings and sculptures representing, in a conceptual and emotional way, the sea and its landscapes, which recall a broader and deeper reflection on migration and social and political contexts. Capote uses recycled fishing hooks, broken chains, wire fences, disassembled barbed wire, gold leaf, plaster and other materials. He highlights their value, symbolism and cultural relevance, giving life to works created through a complex material and productive process focused on behavior and psychological states.
ISLA, initially inspired by the artist's memories and personal experiences during the 1990s crisis in Cuba, took its final form from the ideological concept of the "Iron Curtain" of the Cold War. The fishing hooks in the paintings transform the sea into a metal fence, a metaphor for a Cuba's wall, in that period, the only country without artificial barriers.
The series REQUIEM was born from the artist's first trip to Italy, and shows his thoughts on the masterpieces kept in churches, sacred places and museums. At the center of the works is the gold leaf, a typical element in medieval altarpieces and early Renaissance religious paintings, which has always been associated with the divine and the supernatural. Capote paintings' bright sky is the emblem of a better future, a symbol of hope and a tribute to all the migrants who died in the waters, sometimes illuminated by gold.
Chains, barbed wire fences, handcuffs, and other metal debris of various shapes and sizes compose the PURIFICATION series. The creative process is documented by a video that illustrates the sequences of actions and meaning of the work. Capote uses jewelers tools: he works metal, transforming it, draws neat lines on plastered surfaces, sealing them with matte paint and, in some cases, illuminating them with light layers of oil paint.
Image: Isla (lacrimosa), 2022, oil, nails and fishhooks on linen mounted on wooden panel,120 x 210 cm. Courtesy: the artist and GALLERIA CONTINUA; Photo by Giorgio Benni
Informations
When
from 30 September 2022
to 3 December 2022
POINT (12.495089 41.904307)
Contacts
Email:
roma@galleriacontinua.com
Facebook:
www.facebook.com/galleriacontinua/
Instagram:
www.instagram.com/galleriacontinua/
Mobile phone:
333 3870553 - 366 5499387
Twitter:
https://twitter.com/gcontinua
Web site:
www.galleriacontinua.com
Timetables
Dal 30 settembre al 3 dicembre 2022
Dal martedì al sabato dalle ore 11.00 alle 19.00
Condividi
Location
Yoan Kapote - Elegy, Via Vittorio Emanuele Orlando, 3
Via Vittorio Emanuele Orlando, 3
41° 54' 15.5052" N, 12° 29' 42.3204" E