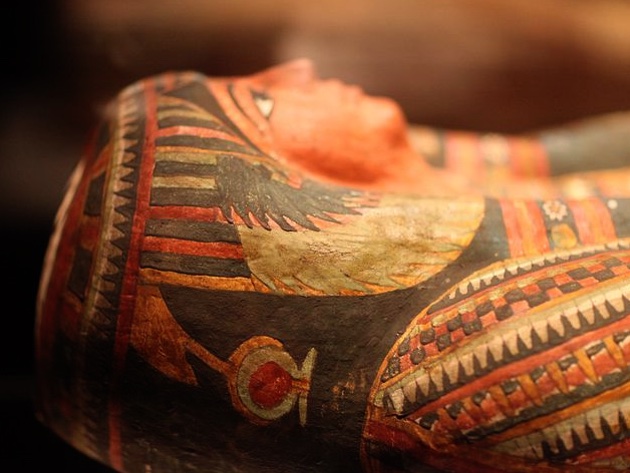 The exhibition Vatican Coffin Project. Djedmut tells is part of the international and multidisciplinary scientific project Collections in dialogue, launched in 2018 by the Vatican Museums, in collaboration with the most important Italian and international museum institutions, in order to create mutual opportunities for dialogue, comparison and scientific research on the respective collections of Egyptian Antiquities.
In Room I of the Gregorian Egyptian Museum of the Vatican Museums, the most beautiful polychrome wooden sarcophagus from the Collection of Egyptian and Near Eastern Antiquities is on display to the general public in an evocative setting: the sarcophagus of the priestess and singer of Amon, Djedmut. In fact, for an entire year it is Djedmut herself who "tells her story" and presents the Vatican Coffin Project which since 2008 has seen her as the protagonist together with the other wonderful polychrome wooden sarcophagi of the Third Intermediate Period (XXI-XXV dynasty, 1070-712 BC.).
The exhibition project makes use of the collaboration of the Cabinet of Scientific Research applied to the Cultural Heritage of the Vatican Museums which coordinates the innovative protocol of diagnostic investigations conducted on the precious finds.
Informations
When
from 30 September 2022
to 30 September 2023
POINT (12.453317 41.906949)
Contacts
Web site:
www.museivaticani.va/content/museivaticani/it/eventi-e-novita/iniziative/Eventi/2022/collezioni-in-dialogo-djedmut.html
Condividi
Location
Vatican Coffin Project. Djedmut racconta. Collezioni in dialogo, Viale Vaticano, 100
41° 54' 25.0164" N, 12° 27' 11.9412" E