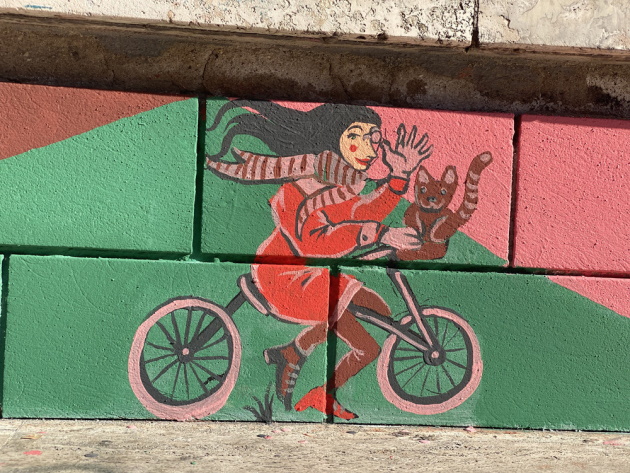 A sustainable, accessible and smart city that knows how to tell about itself through different perspectives, enhance and embellish common spaces, promote art and young talents: in the Garbatella district, the non-profit organization Yourban2030 inaugurates the new work signed by the Italian-Russian street artist Maria Ginzburg, illustrator and student of painting and graphics at the Academy of Fine Arts in Rome.
The new mural completes the renovation of the square in front of the metro B stop, already started in December 2021 with The Endless Growth, the first smart wall in Rome designed by the young artist Jordi Alessandro Bello Tabbi. From a simple place of passage, this symbolic access to one of the historic and characteristic Roman neighborhoods thus becomes a meeting space. The work offers visitors and passers-by an original vision of the neighborhood, a poetic and unprecedented map that highlights the unique soul of Garbatella and transforms the light of its streets and alleys, the unexpected views, the colors of the palaces into art.
With its 36 square meters of smog-eating paint, Urban Fragments also aims to raise awareness on the issues of eco-sustainability and urban protection: the green mural transforms about 5.54 g of nitrogen monoxide per day into inert salts, absorbing the harmful emissions produced by almost 8 Euro 6 compliant vehicles powered by petrol.
Informations
When
from 4 February 2022
to 31 December 2022
POINT (12.484033197956 41.867069153155)
Timetables
Dal 4 febbraio 2022
Uscita Garbatella Metro B, Via Giacinto Pullino 103
Condividi
Location
Urban Fragments, Via Giacinto Pullino, 103
Via Giacinto Pullino, 103
41° 52' 1.4484" N, 12° 29' 2.5188" E