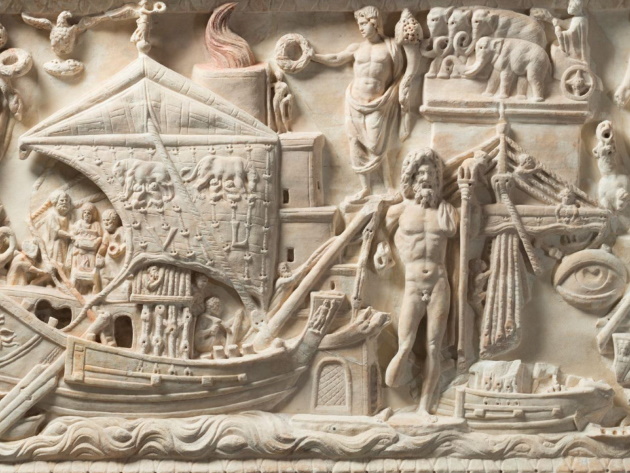 The scientific project for enhancing the collection is entrusted to Salvatore Settis who is curating The Torlonia Marbles-Collecting Masterpieces with Carlo Gasparri, both archaeologists and academics of the Accademia dei Lincei. Electa, also publisher of the catalogue, organizes the exhibition. The Torlonia Foundation with the contribution of the maison Bvlgari has restored the sculptures selected.
An opportunity to inaugurate the new prestigious exhibition venue in Roma Capitale of the Musei Capitolini at Palazzo Caffarelli. The choice of the location was dictated by the intention to focus the show on the history of collecting. In this respect, the history of the Torlonia Museum at the Lungara - founded by Prince Alessandro Torlonia in 1875 -, with its 620 catalogued works of art, appears of outstanding importance.
This collection is the result of a long series of acquisitions and some significant shift of sculptures between the various residences of the family. We can even say that the Torlonia marbles constitute a collection of collections or rather a highly representative and privileged cross-section of the history of the collecting of antiquities in Rome from the 15th to the 19th centuries. The items on display are not only outstanding examples of ancient sculpture - busts, reliefs, statues, sarcophagi and decorative elements -, but also a reflection of a cultural process - the beginnings of the collecting of antiquities and the crucially important transition from the collection to the Museum: a process where Rome and Italy have had an indisputable primacy. In this way the exhibition traces the formation of the Torlonia Collection, and the last of its five sections eloquently relates to the adjacent exedra of bronzes and the statue of Marcus Aurelius in the Musei Capitolini, bringing out the ties between the beginnings of private collecting of antiquities and the significance of the donation of the Lateran bronzes to the city of Rome by Sixtus IV in 1471.
The project to organize the exhibition of the Torlonia Collection in the renovated spaces of the new venue of the Musei Capitolini at Palazzo Caffarelli, restored to life through the commitment and the project of the Superintendency for Monuments and Cultural Properties of Rome is by David Chipperfield Architects Milan.
The April 2020 event is the first stage of a traveling exhibition, for which agreements are in progress with major international museums and which will conclude with the identification of permanent spaces for the opening of a new Torlonia Museum.
This is the first step of the agreement signed the 15 March 2016 between the Ministry for the Cultural Heritage, Activities and Tourism and the Torlonia Foundation, and is a result of the institutional agreement subscribed by the Directorate General for Archaeology, Fine Arts and Landscape and the Special Superintendency of Rome with the Torlonia Foundation itself.
Informations
When
from 14 October 2020
to 27 February 2022
POINT (12.483342 41.892692)
POINT (12.482211 41.893485)
Contacts
Web site:
http://www.torloniamarbles.it/
Timetables
Reopening from April 26, 2021
to January 9, 2022 Extended to February 27, 2022
Every day from 9.30 to 19.30
Last admission one hour before closing time
Closed:
1 May
Before planning the visit, CONSULT THE NOTICES
Condividi
Locations
I Marmi Torlonia. Collezionare Capolavori, Piazza del Campidoglio, 1
Piazza del Campidoglio, 1
41° 53' 33.6912" N, 12° 29' 0.0312" E
I Marmi Torlonia. Collezionare Capolavori, Via delle Tre Pile, 1
41° 53' 36.546" N, 12° 28' 55.9596" E