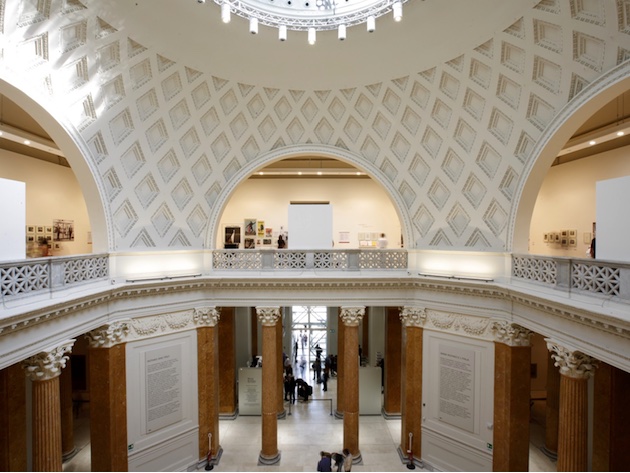 The Palazzo delle Esposizioni hosts Three Stations for Art-Science, an exhibition in three parts, real stages that lead the public through an interdisciplinary journey in which art, science and society meet and dialogue with each other, contributing to reflection from different points of view: the history of science (The science of Rome. Past, present and future of a city), contemporary creativity (Ti con zero) and the frontiers of scientific knowledge (Uncertainty. Interpreting the present, predicting the future).
With this project, the intent of the Palaexpo Special Company is to promote the mixture of different knowledge, to overcome the very idea of ​​an exhibition through a new experience combining the exhibition aspects with the educational ones. For this reason, there is an extensive program of workshops, conferences, events and film reviews, as well as a rich digital schedule.
The idea of ​​the exhibition that develops in all the spaces of the Palace was also born from the desire to intervene in the contemporary debate on the relationship between science and society that climate change and the pandemic have made of primary importance. The metaphorical starting point of the exhibitions is in fact the idea of ​​"station", because its transformation seems emblematic from the movement considered as the progress of nineteenth-century stations, places of social meeting, to research stations where scientists stopped for make observations and experiments, up to space stations, the technological poles of humanity. New forms of "stasis" in the contemporary world that have become necessary in recent times are also analyzed: quarantine, work from home and others.
The environments of the three exhibitions were designed by the Formafantasma studio - Simone Farresin and Andrea Trimarchi - two Italian artists and designers based in Milan and Rotterdam. Listed in 2011 by the New York Times as one of the most influential designers for the following decade, they were awarded the 2020 Designer of the Year at the Dezeen Awards.
The exhibition, promoted by ROMA Culture, is conceived and organized by the Palaexpo Special Company with the collaboration of numerous public institutions, including INFN National Institute of Nuclear Physics which is responsible for the entire design of the Uncertainty exhibition; while the support of the museum complex of the Sapienza University of Rome was fundamental for the realization of La Scienza di Roma.
Photo credits: Courtesy of 
Photo credits: Courtesy of Palazzo delle Esposizioni official site
Informations
When
from 12 October 2021
to 27 February 2022
POINT (12.490471 41.898935)
POINT (12.489286 41.899826)
POINT (12.489504 41.8995108)
POINT (12.489504 41.8995108)
Contacts
Online purchase:
https://ecm.coopculture.it/index.php?option=com_snapp&view=event&id=D63E7310-DE04-94F1-5C8E-016D2B3EA3DF&catalogid=0C8282B7-2165-9BD2-6162-017C4CA8B984&lang=it
Web site:
www.palazzoesposizioni.it/pagina/tre-stazioni-per-arte-scienza
Timetables
Sunday, Tuesday, Wednesday and Thursday from 10.00 to 20.00
Friday and Saturday from 10.00 to 22.30
Monday closed
Admission is allowed up to one hour before closing
For updates and guidelines please check the > official website
Condividi
Locations
Tre Stazioni per Arte-Scienza, Via Nazionale, 194
41° 53' 56.166" N, 12° 29' 25.6956" E
Tre Stazioni per Arte-Scienza, Via Piacenza, snc
41° 53' 59.3736" N, 12° 29' 21.4296" E
Tre Stazioni per Arte-Scienza, Via Milano, 13
41° 53' 58.2396" N, 12° 29' 22.2144" E
Tre Stazioni per Arte-Scienza, Via Milano, 9A
41° 53' 58.2396" N, 12° 29' 22.2144" E