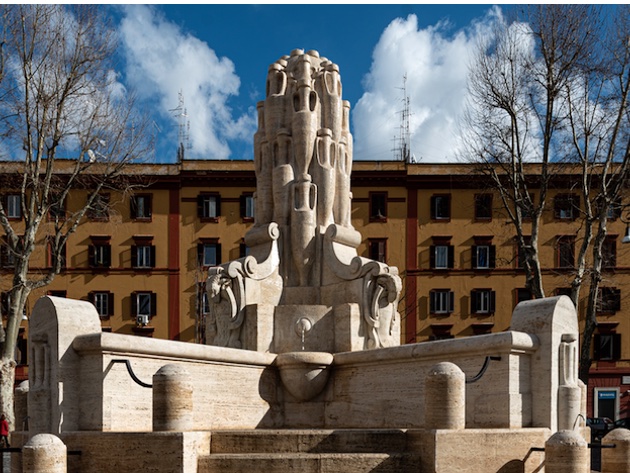 The Municipality of Rome I Centre and the TestaccioinTesta Association promote the Testaccènto event, to celebrate the centenary of the birth of the Testaccio district. The program includes a series of initiatives - such as exhibitions, guided tours, musical evenings, films, workshops, gastronomy and traveling shows - aimed at raising awareness of the culture, art and tradition of the historic district. It is also possible to visit a traveling exhibition of shots of the district, including historical archive photos compared with the interpretation of contemporary photographers, curated by Glauco Dattini.
Among the numerous events we point out: Open Day at the Testaccio Market; Cinemadamare, or free public films at the ex-Mattatoio (Slaughterhouse for animals); Roma Football Experience, evening-event in Piazza Testaccio, the photographic journey in English for foreigners in the district by Matilde Damele, the creative contest with schools by the ARF Cultural Association, entitled "Discovering Testaccio to celebrate its 100 years ... in comics "; the tour of the district by bicycle with the Roma Bike Team and much more.
The aim of the event is the enhancement and promotion of the development of the territory, for the realization of new projects in favor of Rione XX, established in 1921 by the Municipality of Rome, and having an amphora of gold on a red background as coat of arms.
For further details about all the manifestations and events, see the website: https://www.testaccio.org/il-centenario-del-rione-testaccio/ 
Photo credits: courtesy of Rione XX Testaccio official site
Informations
When
from 6 May 2022
to 4 December 2022
Contacts
Email:
testaccento@testaccio.org
Facebook:
www.facebook.com/Testaccento
Web site:
www.comune.roma.it/web/it/municipio-i-progetti.page?contentId=PRG916531
Web site:
www.testaccio.org/il-centenario-del-rione-testaccio
YouTube:
www.youtube.com/watch?v=DJWP9cnPXDM
Timetables
dal 6 maggio al 4 dicembre 2022
Condividi