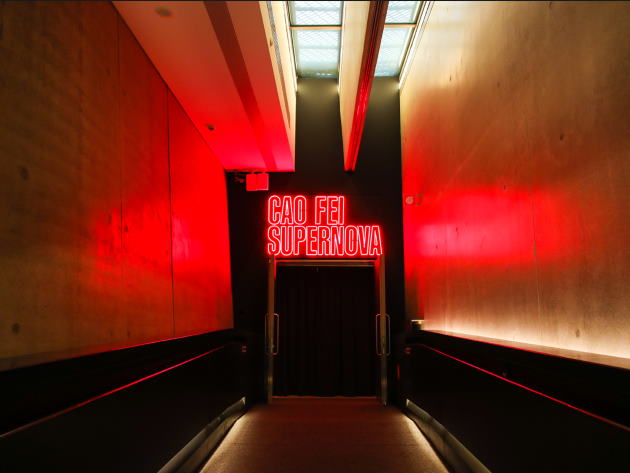 Interaction between reality and fantasy, real and virtual, memory and future: MAXXI hosts the first Italian solo show of the Chinese avant-garde artist Cao Fei, one of the most innovative and visionary protagonists of the contemporary scene. Exhibited all over the world, her works use a poetic, critical and ironic language to show the metamorphosis of Chinese society and metropolises, the passage from millenary traditions to a technological and overwhelming present, the obsession with development in an increasingly claustrophobic and alienating world.
Welcoming visitors in the museum lobby is a giant inflatable octopus, one of the recurring protagonists in Cao Fei's videos. The works on display at the museum's Galleria 5 include films, videos, photographs and scenographic elements, part of an articulated installation itinerary that starts from the real and at times private places of the artist's life and looks out onto a threatening, dystopian and surreal virtual future.
Together with two crucial films by the artist, Haze and Fog (2013) and La Town (2014), the show presents Cao Fei's latest works. The science fiction film Nova (2019) tells the timeless story of Hongxia, the neighborhood where Cao Fei lives, reinvented and set in the future. The virtual reality work The Eternal Wave (2020), produced in collaboration with Acute Art, continues the artist's exploration of the virtual, reality and self-perception with technology. In Isle of Instability (2020), the latest creation made by the artist in her home in Singapore, she explores the psychological repercussions of the pandemic crisis and isolation starting from her personal experience.
Photo maxxi.art - © Daniel Richard Passafiume, Courtesy Fondazione MAXXI
Informations
When
from 16 December 2021
to 8 May 2022
POINT (12.4652138 41.9277884)
Contacts
Facebook:
www.facebook.com/museomaxxi
Hashtag:
#CaoFei #Supernova
Online purchase:
https://maxxi.archeoares.it/
Web site:
www.maxxi.art/events/cao-fei-supernova/
Timetables
from Tuesday to Sunday from 11.00 to 19.00 (last admission at 18)
Saturday and Sunday from 11.00 to 20.00 (last admission at 19)
Closed on Monday 1st May and 25th December
For updates and visiting methods, consult the official website www.maxxi.art
Condividi
Location
Supernova, Via Guido Reni, 4 A
41° 55' 40.0368" N, 12° 27' 54.7704" E