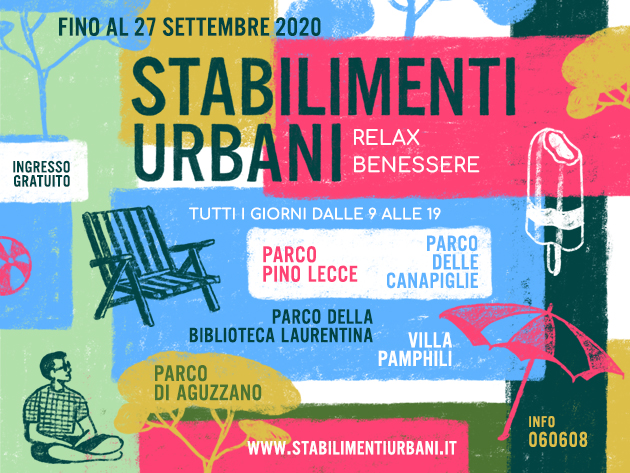 Until 27 September, the new relaxation areas dedicated to free time are open with free admission for all. Equipped with 530 deckchairs, 265 umbrellas, they provide refreshment points and entertainment activities for adults and children.
The Stabilimenti Urbani are the absolute novelty of summer 2020, designed for those who will remain in the city during the summer. Children and adults can attend the set-up spaces, relaxing, or participating in the scheduled entertainment activities.
The five areas are open in Parco Aguzzano (entrance from via Gina Mazza), Parco delle Canapiglie (entrance from via delle Canapiglie), Parco della Biblioteca Laurentina (entrance from via Guido da Verona), Parco Pino Lecce (entrance from via di Generosa) and Villa Doria Pamphilj (entrance from via Leone XIII).
Each area is equipped with deckchairs, umbrellas, systems for refreshing, refreshment points, toilets. But, in addition to the comforts to spend a pleasant day between sun and relaxation, they are also equipped with play and fitness areas, covered by gazebos, dedicated to children and teenagers.
Animation activities for children and teenagers on the protection of nature and the environment and individual sports activities focused on the individual's mental and physical well-being, with daily lessons of disciplines such as yoga, pilates, and soft gymnastics.
A special initiative for younger guests is proposed by Mondo Convenienza, official sponsor, with the "football game".
Every day from 10 am to 1 pm and from 2 pm to 6 pm, you are invited to try their hand at a penalty match, in a play area set up for the occasion with a real soccer goal (small size and without a goalkeeper). Gadgets are provided for everyone, both for those who score goals and for other participants.
In compliance with the prevention measures of Covid-19, your temperature will be taken - you cannot access with a temperature higher than 37.5 - as well as your personal contacts. You must wear a mask in the common areas (toilets and refreshment points) and keep the interpersonal distance of at least 1 meter, except for families. You must be equipped with your own towel to use the deckchairs and your own mat for carrying out sports activities, for which a distance of 2 meters is provided.
Informations
When
from 1 August 2020
to 27 September 2020
Contacts
Telephone:
060608 (tutti i giorni dalle 9.00 alle 19.00)
Web site:
www.stabilimentiurbani.it
Timetables
Dal 1° agosto al 27 settembre 2020
Orari di apertura
Tutti i giorni dalle ore 9.00 alle 19.00
Ultimo ingresso ore 18.00
Il dettaglio delle iniziative è sul sito www.stabilimentiurbani.it
Condividi