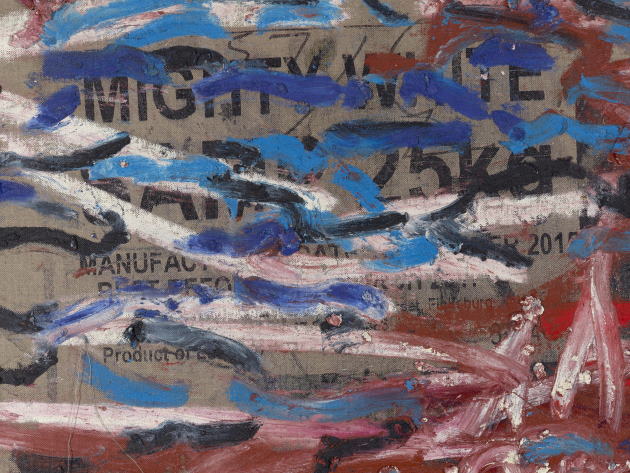 The first solo exhibition in Italy of Oscar Murillo, one of the winners of the 2019 Turner Prize, is a consequence of the invitation addressed to the Colombian artist by the Memmo Foundation to visit Rome to give shape to a new body of works. 
The exhibition includes a series of paintings made during the months of the pandemic in La Paila, Colombia, which then merged into a site-specific installation when the artist returned to Rome. The works presented inevitably bear traces of the upheavals that characterized the last period. They convey uncertainty and a sense of instability, while also placing emphasis on the strong inequities and systematic contradictions of society on a global level. Despite this, the exhibition does not offer a direct allegorical reading but is rather a layered and enveloping experience.
Unlike most of his previous works which were saturated with blue tones, here for the first time Murillo shows a vibrant palette of red colors that enriches the paintings with a wide range of shades. Dense brushstrokes of oil color float horizontally on the surface of the work, with a reference to abstract expressionism that also alludes to the erasing force of water. The presence of red returns the idea of ​​a ferment taking place among the canvases, a force and a "sparkling" beauty beyond which we can glimpse the collapse already underway in society, but which the events of the last 18 months have led to fore.
Informations
When
from 10 November 2021
to 20 March 2022
POINT (12.478395 41.904287)
Contacts
Web site:
www.fondazionememmo.it/oscar-murillo-spirits-and-gestures
Timetables
From 10 November 2021 to 20 March 2022
Monday to Sunday 11.00am - 6.00pm
closed on Tuesdays
For updates and guidelines please check the > official website
Condividi
Location
Spirits and Gestures, Via della Fontanella Borghese, 56b
Via della Fontanella Borghese, 56b
41° 54' 15.4332" N, 12° 28' 42.222" E