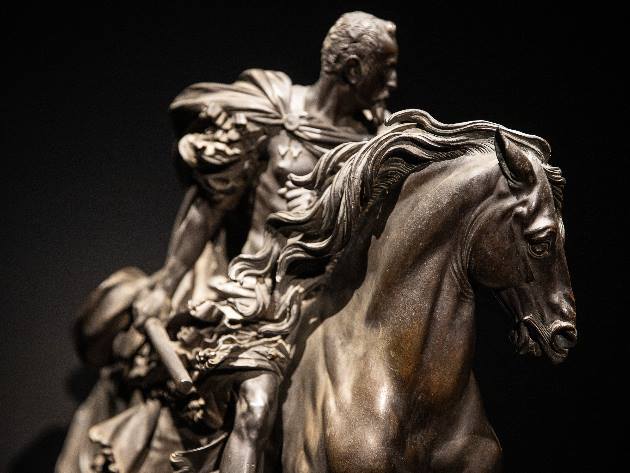 The National Galleries of Ancient Art in Palazzo Barberini devote an impressive exhibition to Urban VIII, the pope who had the most incisive impact on 17th-century philosophical thought, scientific knowledge and arts and his long and emblematic pontificate on the occasion of the 400th anniversary of his election to the papal throne.
A Man of letters, poet and patron of the arts, Maffeo Barberini was a refined lover of the arts: in addition to reaffirming the universalism of the Catholic Church, he tenaciously pursued an activity of promotion of culture in science, literature and art history, promoting exceptional projects such as the canopy of St. Peter's by Gian Lorenzo Bernini and the fresco by Pietro da Cortona in Palazzo Barberini, indelibly marking 17th-century Rome.
The Sovereign Image brings together the masterpieces of the Barberini collection, dispersed over the centuries and now housed in the leading museums of the world, which return to their original location. On display are more than 80 works, including masterpieces by extraordinary artists such as Gian Lorenzo Bernini, Caravaggio, Valentin de Boulogne, Francesco Mochi, Nicolas Poussin, and Andrea Sacchi, from the museum's collection and over 40 museums, Italian and international private collections. Among these, the Uffizi Gallery, the Pinacoteca di Brera, the Museum and Real Bosco di Capodimonte, the Central State Archives, the Vatican Museums and the Vatican Apostolic Library, the Borghese Gallery, the Capitoline Museums, Palazzo Braschi and the Galleria Spada in Rome, the Prado Museum in Madrid, the British Museum and the National Gallery in London, the Musée du Louvre, The J. Paul Getty Museum in Los Angeles, the Metropolitan Museum of Art in New York, the Staatliche Museen zu Berlin and the Prince Corsini Collection of Florence, to name a few.
The exhibition path presents the paintings, sculptures, books, prints, objects, antique collection and splendid tapestries of the family that contributed to the birth of the Baroque and winds through twelve sections: Pleasure, good fortune and strategy; Imagining the dynasty; Making saints; Hic Domus; Family business; Ancient culture; Modern science; Weaving the fabric; Poetry and rhetoric; The munificent bees; Around the hive; The theatre of amazement.
The exhibition is produced by the National Galleries of Ancient Art with the support of the Directorate-General of Museums of the Ministry of Culture and curated by Maurizia Cicconi, Flaminia Gennari Santori and Sebastian Schütze.
Photo: Sovereign Image, Exhibition Space, Imagining the dynasty, photo Alberto Novelli
Informations
When
from 18 March 2023
to 30 July 2023
POINT (12.4900477 41.9031496)
Contacts
Web site:
www.barberinicorsini.org/evento/limmagine-sovrana-urbano-viii-e-i-barberini/
Timetables
Dal 18 marzo al 30 luglio 2023
Dal martedì alla domenica dalle 10.00 alle 19.00 (la biglietteria chiude alle 18.00).
Chiuso il lunedì
Condividi
Location
L'immagine sovrana. Urbano VIII e i Barberini, Via delle Quattro Fontane, 13
Via delle Quattro Fontane, 13
41° 54' 11.34" N, 12° 29' 24.1728" E