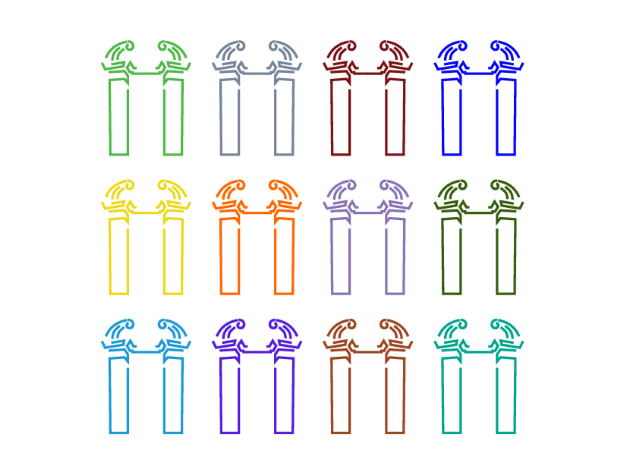 The Sala Santa Rita reopens to the public in the name of contemporary art and culture with the 12 winning projects of the tender established by the Assessorato alla Crescita culturale of Rome and entrusted to Azienda Speciale Palaexpo. Paintings, sculptures, artistic and sound installations, videos and performances: different means and languages ​​that interact with the evocative architecture of the former deconsecrated church and that give life to the works presented every two weeks until 31 December by virtue of an innovative and continuous program.
The program, with free admission, is inaugurated by the collective Numero Cromatico presenting "Don't You Forget About Me" on the potential and effects of Artificial Intelligence, followed in mid-July by "Alizarina" by Gaia Bellini, the result of studies on the history and power of natural color symbolism. In the first fifteen days of August, in the "Progetto per Chiesa di Santa Rita da Cascia in Campitelli" the works of Luca Arboccò and Francesco Pozzato question the history of the monument that houses them, its movement and its relationship with the outside world. The video animation "Mutabilia" by Edoardo Tedone, set up in the second half of August, is also based on the same theme.
In September, the program goes on with "Lo spiracolo di Santa Rita" by Valeriana Berchicci, focusing on the foundations of photography, and "Spring Cleaning" by Letizia Scarpello, a performance linked to the Jewish custom of cleaning the house during the Pesach period. In October, the "Progetto collettivo" by Jacopo Belloni, Beatrice Favaretto, Giorgia Garzilli, Diego Gualandris, Pietro Librizzi evokes a fluid and changing space through an installation and a performance articulated as a guided tour. In the second half of the month, Marco De Rosa's "Arrotino" links the language of sound-art to the call still repeated today in the streets of Rome.
"Sexy Movers" by Aurelio Di Virgilio is the site-specific performance focused on the meeting with the other scheduled for the first fortnight of November, followed in the second half of the month by the work "Bianco naturale" by Sabrina Mezzaqui. In December, Marzio Zorio presents "Biblioteca", a sound and participatory installation intended as an investigation into writing and its community value. The program ends with the work by Ozge Sahin entitled "La memoria collettiva", divided into an installation and a performance that are the result of the new perception of time gained during the 2020-2021 lockdown.
Informations
When
from 5 July 2021
to 31 December 2021
POINT (12.480413 41.892477)
Contacts
Email:
info.salasantarita@palaexpo.it
Facebook:
www.facebook.com/SalaSantaRitaRoma
Instagram:
www.instagram.com/salasantarita_roma/
Web site:
www.salasantarita.it
Timetables
dal 5 luglio al 31 dicembre 2021
Mostre, performance e installazioni
Condividi
Location
Santa Rita Contemporanea, Via Montanara, 8
41° 53' 32.9172" N, 12° 28' 49.4868" E