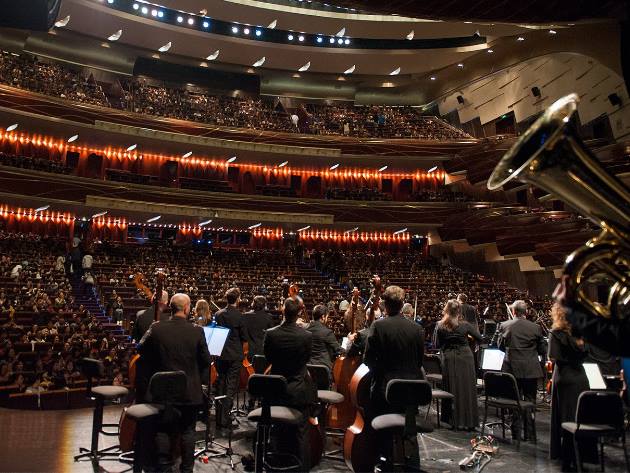 The appointment with the great international event dedicated to the cinema soundtracks and their protagonists is back with a second extraordinary edition at the Auditorium Conciliazione and the Forum Studios.
The event takes place in eight days - four dedicated to live soundtrack cinema and four to in-depth masterclasses, workshops and meetings, and a surprise final party - to share the universe of notes that accompany cinema masterpieces and let the the public live an emotional cinematic experience.
The over 80 members of the Orchestra Italiana del Cinema take the stage of the Auditorium Conciliazione for two extraordinary concerts performed in sync with the images of the films, which celebrate the centenary of Walt Disney and Warner Bros. The festival begins with Bugs Bunny at the Symphony (30 September  and 1 October), the exceptional European premiere featuring the Looney Tuney Tunes with the direction of Maestro George Daugherty, preceded by a great party with music, animators, cartoon characters and orchestra conductors, exceptionally " playing music" with the little guests. On the program, on 6 and 7 October, Pirates of the Caribbean - The Curse of the Black Pearl In Concert" directed by Ludwig Wicki, for the first time in Italy with the entire first film of the saga starring Johnny Depp projected in high definition. On Sunday, 1 October, with The Wonderful World of John Williams, Sara Andon on the flute, Simone Pedroni on the piano, and Cecilia Tsan on the cello symbolically accompany the audience in the studio of one of the most brilliant soundtrack authors.
From 2 to 5 October, the famous Forum Studios, founded by Ennio Morricone, Armando Trovajoli, Piero Piccioni and Luis Bacalov, host a rich program of masterclasses, concerts, meetings, and "ENNIO" at Ennio's home, a special tribute to the unforgettable Ennio Morricone (4 October), with the screening of the film of the same name by Giuseppe Tornatore in the studio A where the Maestro recorded his music for over fifty years.
Among the guests, Stefano Lentini, composer of the music for the TV series "Mare Fuori"; the pianist Gilda Buttà and the children's choir "I Piccoli Cantori di Barcellona Pozzo di Gotto"; the orchestra director George Daugherty; the producer Robert Townson; Massimo Privitera, director of ColonneSonore.net; the composer and orchestrator Fabrizio Mancinelli in connection from Los Angeles; ACMF (Film Music Composers Association) and ECSA (European Composer and Songwriter Alliance).
Roma Film Music Festival is led by the artistic direction of Marco Patrignani, conceived and produced by Forum Studios, and created with the patronage and contribution of the Ministry of Culture - Directorate General of Cinema and Audiovisual, with the auspices of the Presidency of the Culture Commission of the Chamber of Deputies; the patronage of: Municipality of Rome Assessorato ai Grandi Eventi, Sport, Turismo e Moda; Nuovo Imaie and Anec; with the collaboration of ACMF (Association of Film Music Composers).
Informations
When
from 30 September 2023
to 8 October 2023
Contacts
Acquisto online:
https://www.ticketone.it/artist/roma-film-music-festival/
Sito Web:
https://www.romafmf.com/
Timetables
From 30 September to 8 October
Condividi