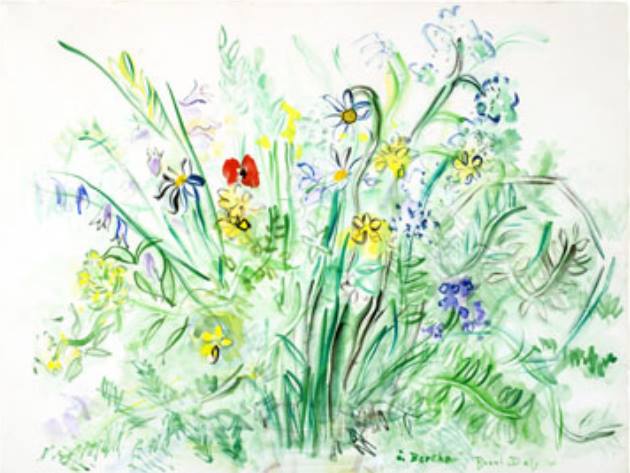 Palazzo Cipolla hosts the first major exhibition in Italy dedicated to the painter of joy, light and colour, one of the masters of modern art between Impressionism and Fauvism.
On display are more than 160 works, including paintings, drawings, ceramics and fabrics, representing an emotional journey to discover the art of Dufy. The artist gave, with his innovative, vibrant, committed and light style, at the same time, a significant contribution to changing public tastes in the first half of the 20th century.
The exhibition, curated by Sophie Krebs and Nadia Chalbi, tells the entire artistic life of the French painter and winds through 13 sections: In Cézanne's Footsteps; Prints and Book Illustrations;  Fashion and Décor; Bathers; Italian Journey; Wheatsheaves; Racing and Horses; Music and Harlequin; Dufy and the Masters; Flowers and Bouquets; Studios and Models; La Fée Électricité.
The works reveal the different techniques used by the artist during the decades of the last century, from the beginning to the 1950s, and explore the themes most dear to him. You can admire paintings portraying still lifes, rural and marine landscapes, wildflowers bouquets, print drawings, myths, evocative Sicilian landscapes, seasons and work in the fields, horse racing, orchestras and musicians, flowers, fruits and artists' studios.
The masterpieces come from prestigious French public and private collections - including the Musée d'Art Moderne de Paris, Centre Pompidou, Palais Galliera, Bibliothèque Forney, Bibliothèque littéraire Jacques Doucet, Musée de la Loire, Musée des Tissus et des Arts Décoratifs de Lyon, Musée des Beaux-Arts Jules Chéret de Nice and Musée Royaux des Beaux-Arts de Belgique in Brussels.
The exhibition, promoted by the Terzo Pilastro - International Foundation, is created by Poema with the organizational support of Comediarting and Arthemisia, and conceived by the Musée d'Art Moderne de Paris.
Photo: Raoul Dufy, Fiori di Campo, 1950 ca., Acquarello e gouache su carta Velin d'Arches 50x65,8 cm, MAM Paris, Paris Musées / Musée d'Art Moderne, Droits d'auteur © ADAGP © Raoul Dufy by SIAE 2022
Informations
When
from 14 October 2022
to 26 February 2023
POINT (12.480197811442 41.899357929094)
Contacts
Facebook:
www.facebook.com/FondazioneTerzoPilastro
Instagram:
www.instagram.com/fondazioneterzopilastro
Online purchase:
www.ticket.it
Online purchase:
www.ticketone.it
Online purchase:
www.tiqets.com/it
Online reservation:
biglietteriapalazzocipolla@gmail.com
Telephone purchase:
06 9837051
Twitter:
https://twitter.com/fondtpi
Web site:
www.fondazioneterzopilastrointernazionale.it/2022/08/02/raoul-dufy-il-pittore-della-gioia-in-mostra-a-palazzo-cipolla
Timetables
From 14 October 2022 to 26 February 2023
Condividi
Location
Raoul Dufy, Via di Montecatini, 17
41° 53' 57.6888" N, 12° 28' 48.7128" E