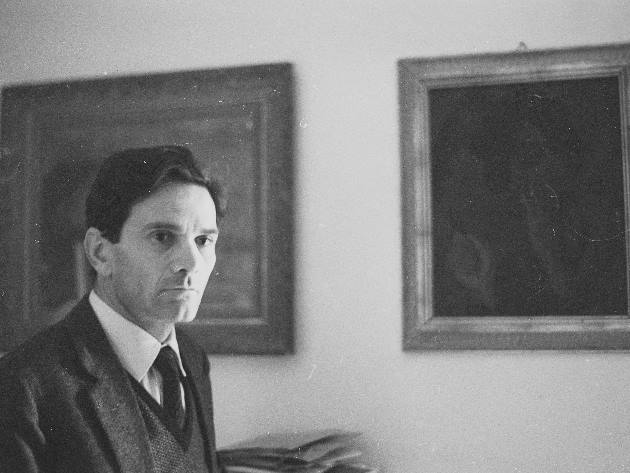 Palazzo delle Esposizioni, National Gallery of Ancient Art in Palazzo Barberini and MAXXI celebrate the eclectic and versatile intellectual of the 20th century, on the occasion of the centenary of his birth, through an important exhibition project.
A poet, writer, journalist, director, screenwriter and playwright, the artist is the protagonist of three different exhibitions. Hosted in the three museums, they are linked by the common thread of production and cultural influence that Pasolini had and continues to have on society and art.
Tutto è santo (Everything is Sacred), a title inspired by the phrase pronounced by the wise Chiron in the film Medea (1969), recalls what Pier Paolo Pasolini considered sacred: the world of the underclass, archaic and religious, without classes and ideological affiliations, as opposed to the modern consumer world - rational, secular, and bourgeois.
The exhibition path at Palazzo delle Esposizioni, curated by Giuseppe Garrera, Cesare Pietroiusti, Clara Tosi Pamphili, and Olivier Saillard, winds through seven thematic sections dedicated to the love for things and bodies, "the body poetic": Face – People are Saints; Mockery – The Language of the Fathers; Feminine – The Sacred of Which We Are Robbed; Clothes – The Costumes of the Body; Voices – Of the People and the Poet; Friendly Football Match. Real Italy, Out of the Darkness; Rome – The City in the Street and Rome – Conspiratorial Sodom. 
On display are more than 700 original pieces presenting an unpublished portrait of Pasolini: vintage photographs, period newspapers, first editions of books, magazines, articles, interventions, typescripts, mimeographs, films, records, tapes, and over 250 costumes and stage clothes.
The exhibition is enriched by a large reading room with numerous editions of books about and by Pier Paolo Pasolini, set up in the circular space of the Rotonda di Palazzo delle Esposizioni. Furthermore, the songs written and loved by Pasolini accompany the public by the listening of a vinyl record with Ariete, Franco126, CLAVDIO, Giorgio Poi, POP X & Giacomo Laser.
Informations
When
from 19 October 2022
to 26 February 2023
POINT (12.490471 41.898935)
POINT (12.489286 41.899826)
POINT (12.489504 41.8995108)
POINT (12.489504 41.8995108)
Contacts
Online purchase:
https://ecm.coopculture.it/index.php?option=com_snapp&view=event&id=E18EF955-8F0D-6BF3-1DF8-0169C50620A4&catalogid=AC586999-2BE8-FFDF-5255-017FF665B3AE&lang=it
Web site:
www.palazzoesposizioni.it/mostra/pier-paolo-pasolini-tutto-e-santo
Timetables
From 19 October 2022 to 26 February 2023
from Tuesday to Sunday from 10 to 20
Closed on Mondays
Condividi
Locations
Pier Paolo Pasolini. Tutto è santo. Il corpo poetico, Via Nazionale, 194
41° 53' 56.166" N, 12° 29' 25.6956" E
Pier Paolo Pasolini. Tutto è santo. Il corpo poetico, Via Piacenza, snc
41° 53' 59.3736" N, 12° 29' 21.4296" E
Pier Paolo Pasolini. Tutto è santo. Il corpo poetico, Via Milano, 13
41° 53' 58.2396" N, 12° 29' 22.2144" E
Pier Paolo Pasolini. Tutto è santo. Il corpo poetico, Via Milano, 9A
41° 53' 58.2396" N, 12° 29' 22.2144" E