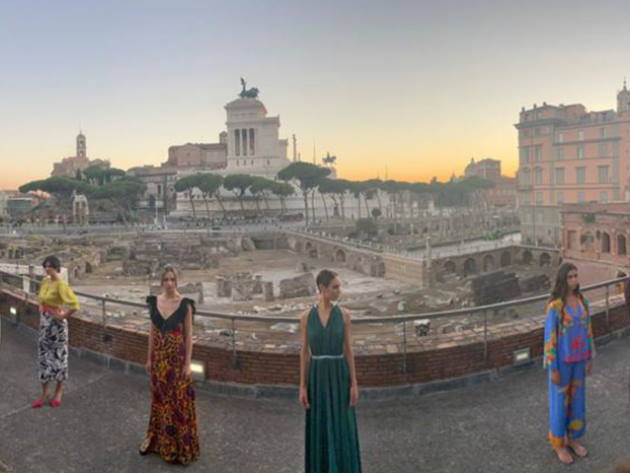 The Phygital Sustainabilty Expo® is a totally new registered format in the world of fashion that has become consumerist and repetitive.
New eyes with which to look at fashion is what Valeria Mangani, President of the Sustainable Fashion Innovation Society, a non-profit association that has been responsible for the eco-sustainable transition of the fashion system for years, wanted to create.
Art inspires and suggests highly ethical virtuosity for the second most polluting sector on the planet: fashion. Innovative materials, which thanks to technology and research avoid the use of plastic raw materials, artificial dyes and heavy metals – substances that are harmful to both the environment and humans. In this way it also becomes possible to reduce the consumption of energy and resources, besides the emissions of polluting gases.
It begins by crossing the gates of millenary vestiges of Trajan's Markets, 113 AD, and strolling the open-air museum itinerary where the brands are exhibited according to their type of innovation and transition with reference to the SDG-Sustainable Development Goals of the Agenda UN 2030. An exhibition to educate the public, which is none other than an aware consumer. And so here are the paths in recycling and luxury upcycle, surrounded by sartorial mannequins that wear only the technological innovations that represent the state of the art of sustainability.
At dusk here is the famous copyright format of the Narrated Fashion Show®, where a voice-over describes the innovations of sustainable fabrics and the technologies used in the outfit that is being shown and the impact on the environment for the production of that dress in terms of CO2. A narration with a sublime musical background, which will make the audience perceive awareness.
The two days of panels in partnership with the European Parliament and the United Nations will see sustainable brands tell their virtuous supply chain, as well as CEOs of SMEs and Presidents of multinationals, taking turns on the international stage to announce their sustainability roadmaps. CTU training credits to students - academic partner: La Sapienza University.
Informations
When
from 5 July 2023
to 6 July 2023
POINT (12.4860984 41.8962514)
Contacts
Web site:
www.mercatiditraiano.it/mostra-evento/phygital-sustainability-expo-iv-edizione
Condividi
Location
PHYGITAL SUSTAINABILITY EXPO® - IV edizione, Via Quattro Novembre, 94
41° 53' 46.5036" N, 12° 29' 9.9528" E