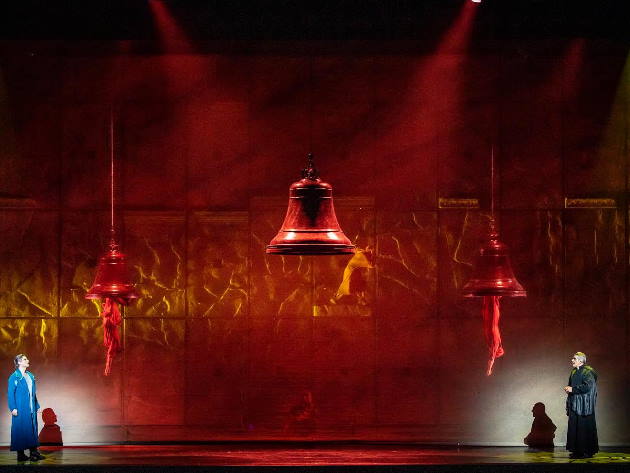 A story of timeless fascination: the musical most loved by world audiences celebrates twenty years since its debut and returns to Rome for an extraordinary tour at the Palazzo dello Sport. 
The exciting story of suffering, injustice and love of the "sans papier", the people of the cathedrals, is inspired by the famous novel by Victor Hugo, masterfully adapted by Luc Plamondon and Pasquale Panella with the splendid music of Riccardo Cocciante. 
On stage, against the background of Christian Ratz's suggestive scenography, is performing the original cast, extraordinarily reunited, with the choreography of Martino Müller and the costumes by FredSathal: Lola Ponce, in the role of the seductive gypsy Esmeralda, Giò di Tonno, as Quasimodo, accompanied by Vittorio Matteucci (Frollo), Leonardo Di Minno (Clopin), Matteo Setti (Gringoire), Graziano Galatone (Febo) and Tania Tuccinardi (Fiordaliso), directed by GillesMaheu. 
Notre Dame de Paris gave rise to a whole new theatrical genre, becoming a cult. In 2016, it won the BigliettOne d'Oro TicketOne at the Rockol Awards for the exceptional number of tickets sold, exceeding the attendance of the most famous rock and pop concerts. In the same year, the colossal modern pop opera got three awards at the Italian Musical Awards as Best Social Show, Best Music and Best Classic Show. An overwhelming rise: more than 1300 replicas and 47 cities visited in Italy, translation into 9 languages and tours in 23 countries around the world with over 5000 performances for a masterpiece that, until now, has fascinated 13 million spectators. 
Photo: Notre Dame de Paris Italia Official Facebook
Informations
When
from 12 May 2022
to 22 May 2022
POINT (12.466421 41.825168)
Contacts
Online purchase:
www.ticketone.it/event/notre-dame-de-paris-palazzo-dello-sport-13370345/
Timetables
Dal 12 al 22 maggio 2022
Tutti i giorni tranne il 16, 17 e 18 maggio 2022
Ore 21.00
Condividi
Location
Notre Dame de Paris, Piazzale dello Sport, 1
41° 49' 30.6048" N, 12° 27' 59.1156" E