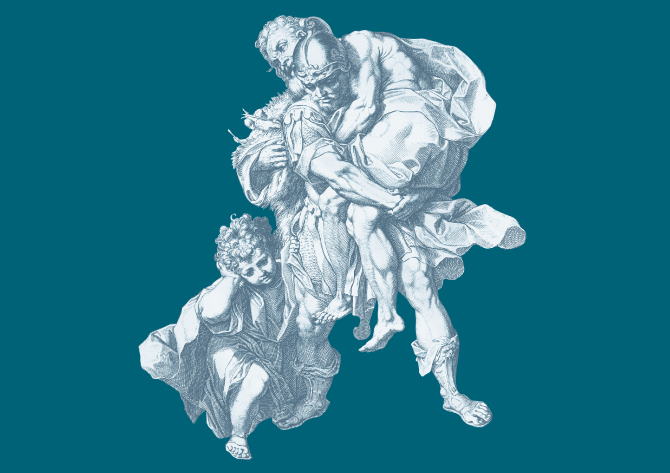 The mythical progenitor, the legendary founder, and the pious and reformer king: at the Ara Pacis Auditorium, the show written and performed by classicist and writer Maurizio Bettini recounts, in three evenings, the legendary origins of the Eternal City while revealing the institutions and cultural identity of a community that was a perfect mix of civilizations and cultures from its very beginning.
With his narrative skills, Maurizio Bettini will take the audience on a journey through Rome's history and myth among anecdotes, curiosities and legends, giving voice each evening to a different character and illustrating the genesis and essence of Roman culture. Aeneas, Romulus and Numa Pompilius will take the floor to recount firsthand the events that saw them as protagonists. These are ancient and legendary stories still charged with fascination, which have come down to us through oral tradition and the works of Livy, Plutarch and Dionysius of Halicarnassus, who documented and transcribed episodes such as the arrival of Aeneas in Latium, the founding of Alba and later of Rome, the Rape of the Sabine Women, the establishment of the Senate and so on.
On stage, alongside the hero, there will be a voice out of time, that of a young character played by actor Jacopo Rampini, capable of pressing the narrative with curiosities, readings of literary passages and anecdotes that history has been able to hand down around the figure of the protagonists.
Informations
When
from 25 November 2022
to 27 November 2022
POINT (12.475483 41.906099)
Contacts
Web site:
www.arapacis.it/mostra-evento/miti-ed-eroi
Timetables
Dal 25 al 27 novembre 2022
Venerdì 25 novembre ore 21.00 - Essere Enea
Sabato 26 novembre ore 21.00 - Essere Romolo
Domenica 27 novembre ore 21.00 - Essere Numa
Condividi
Location
Miti ed eroi . La nascita di Roma, Lungotevere in Augusta
41° 54' 21.9564" N, 12° 28' 31.7388" E