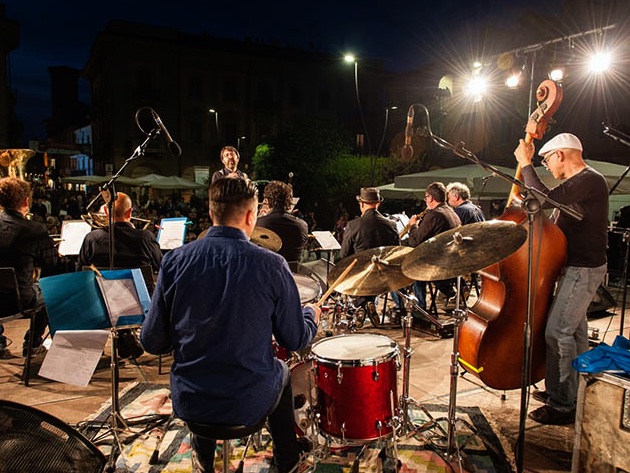 The evening at the Auditorium with the Lydian Sound Orchestra and David Murray presents a file rouge between the jazz music of the Sixties which - in turn, has its roots in Duke Ellington and, before that, in the Afro-American culture of prejazz - and the reinterpretation and rewriting of the latter.
In this sense, the one undertaken by the musicians is a sort of journey through the history of jazz that goes from the echoes of the blues and spirituals to Duke Ellington and Billy Strayhorn, up to Ornette Coleman, Eric Dolphy and Herbie Nichols, and then again to Joseph Jarman and Butch Morris, up to the musical production of the Lydian Sound Orchestra and David Murray.
The Lydian Sound Orchestra, founded and directed by Riccardo Brazzale, is one of the now historic groups of Italian and European jazz of the last twenty years. The ensemble was founded in 1989 on the idea of ​​the "medium bands" of Miles Davis, Monk and Mingus, but it is above all since the 2000s that it has come to general attention, for the work of renewing the jazz tradition according to a contemporary approach.
Photo credits: courtesy of Lydian Sound Orchestra official site
Informations
POINT (12.493969 41.873832)
Contacts
Email:
info@musicaperroma.it
Online purchase:
www.ticketone.it/event/summertime-casa-del-jazz-2022-casa-del-jazz-15223343/
Web site:
www.auditorium.com/evento/lydian_sound_orchestra_feat_david_murray-25881.html
Timetables
Domenica 7 agosto 2022
Ore 21.00
Condividi
Location
Lydian Sound Orchestra feat. David Murray, Viale di Porta Ardeatina, 55
Viale di Porta Ardeatina, 55
41° 52' 25.7952" N, 12° 29' 38.2884" E