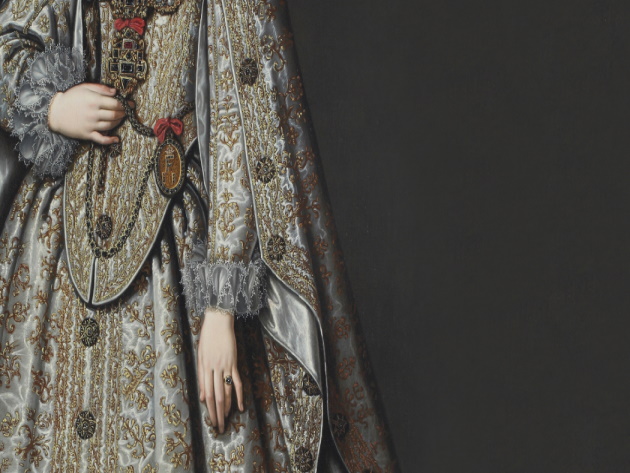 The exhibition at the Pinacoteca of the Capitoline Museums presents an important painting by Lucrina Fetti (1600-1651) which has arrived in Rome for the first time, thanks to an agreement between the Capitoline Superintendency - Civic Museums Management, the Palazzo Te Foundation and the Palazzo Ducale Museum of Mantua. It is the Portrait of Eleonora Gonzaga (1622), the only one signed and dated by Lucrina Fetti.
The work, which is exhibited in Room VI of the Pinacoteca, dedicated to Bolognese and northern Italian painting, represents one of Lucrina Fetti's most interesting canvases above all for the contribution it provides to the reconstruction of the female artists' presence in Rome between the 16th and Nineteenth century.
The canvas portrays Eleonora Gonzaga, younger daughter of Duke Vincenzo and Eleonora de' Medici, raised in the Ursuline convent by her aunt Margherita until her marriage to Emperor Ferdinand of Habsburg in 1622. The portrait, painted on the occasion of the young woman's wedding, represents her in sumptuous clothes, in conformity with the role she would have covered at the court of Vienna. The luxurious brocade dress is in fact woven with gold threads and decorated with lace, while a pendant with the Hapsburg monogram appears on the left of the bodice. The imperial crown and a letter which reads "to the Holy Majesty of the Empress Gonzaga" are depicted on the table.
Born in Rome with the name of Giustina, Lucrina Fetti learned to paint in the family with her better known brother Domenico. Like many other girls of her time, she was destined for a monastic life and consequently her artistic production - portraits and religious scenes - was almost entirely internal to the convent of Sant'Orsola in Mantua, where she moved in 1614 following her brother, called by Ferdinando Gonzaga as court painter. The convent of Sant'Orsola at the time represented one of the most refined female courts in Europe; founded in 1599 by Margherita Gonzaga, sister of Ferdinand IV and widow of Alfonso d'Este, it soon became a place of education and cultural meeting for the young Gonzaga princesses and noble citizens. Margherita, an art lover, had it decorated with frescoes and paintings and Lucrina became the main artist of what was considered a real parallel "court" to the power of the Gonzagas.
Photo credits: courtesy of the  Capitoline Museums official site
Informations
When
from 8 June 2023
to 1 October 2023
POINT (12.483342 41.892692)
POINT (12.482211 41.893485)
Contacts
Web site:
www.museicapitolini.org/mostra-evento/lucrina-fetti-una-pittrice-romana-alla-corte-di-mantova-il-ritratto-di-eleonora
Timetables
From June 8 to October 1, 2023
Thursday 8 June, at 18.00, guided tour held by Ilaria Miarelli Mariani
Every day 9.30 - 19.30
Last admission one hour before closing time
Before planning the visit, CONSULT THE NOTICES
Condividi
Locations
Lucrina Fetti, una pittrice romana alla corte di Mantova. Il ritratto di Eleonora Gonzaga (1622), Piazza del Campidoglio, 1
Piazza del Campidoglio, 1
41° 53' 33.6912" N, 12° 29' 0.0312" E
Lucrina Fetti, una pittrice romana alla corte di Mantova. Il ritratto di Eleonora Gonzaga (1622), Via delle Tre Pile, 1
41° 53' 36.546" N, 12° 28' 55.9596" E