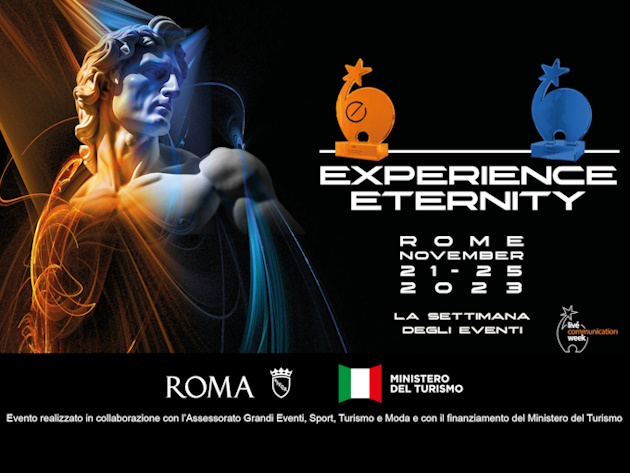 The Auditorium Parco della Musica Ennio Morricone hosts Live Communication Week - Experience Eternity, the event organised by ADC Group, that celebrates the creativity and innovations that are reshaping the 'live communication' landscape to acquire new skills and be inspired by brilliant speakers, share best practices, and create new business opportunities with the best professionals in the sector.
The Week of Events, five days full of creativity during which approximately 2,000 professionals from the events, conference, and business tourism sectors come together to enhance the event as a strategic medium of communication and business and celebrate the best projects of the year during the two Awards ceremonies - on 22 and 24 November - dedicated to the events industry: Bea Italy and Bea World.
After Vogue Forces of Fashion, the 2023 edition of Live Communication Week is the second of Roma Capitale's "Smart Events," under Action 3 of the ROMA SMART TOURISM project, with funding from the Ministry of Tourism within the framework of the fund in favour of municipalities with a cultural, historical, artistic and landscape vocation, in whose territories are located sites recognised by UNESCO as world heritage sites.
Follow the free live streaming of Live Communication Week - Experience Eternity on the Roma Capitale SMART EVENTS platform by clicking here.
YouTube live streaming
Expired
Informations
When
from 21 November 2023
to 25 November 2023
POINT (12.475191 41.929117)
Contacts
Email:
ilaria.scapolo@adcgroup.it
Email:
chiara.forli@adcgroup.it
Web site:
www.livecommunicationweek.com
Web site:
https://besteventawards.it
Web site:
https://beaworldfestival.com
Timetables
From 21 to 25 November 2023
Access upon purchase of delegate pass
Condividi
Location
Auditorium Parco della Musica Ennio Morricone
Auditorium Parco della Musica Ennio Morricone, Viale Pietro De Coubertin, 30
41° 55' 44.8212" N, 12° 28' 30.6876" E