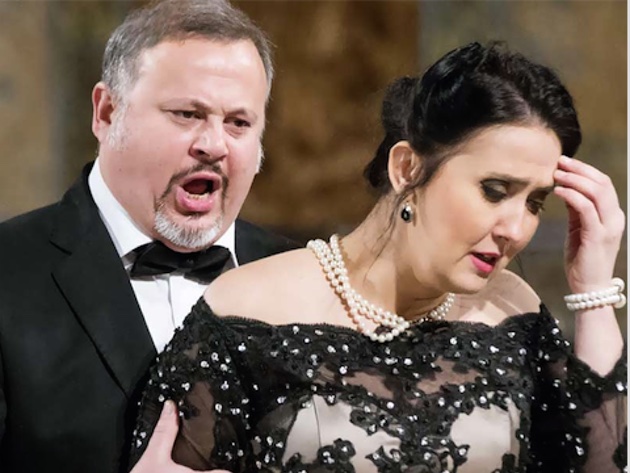 The soloists of Opera and Lirica are on stage at the historic Flaiano Theater, accompanied by choir and orchestra Giuseppe Verdi's masterpiece.
The opera in three acts by the famous composer, based on a libretto by Francesco Maria Piave, was staged for the first time at the Teatro La Fenice in Venice in 1853. The theme of the opera, rather shameless for the time, is taken from the novel La dame aux Camélias by Alexandre Dumas (son) written in 1852 and tells the story of the protagonist, the courtesan Violetta Valéry. The latter leading a very free life, until Alfredo, a young man from a good family, falls in love with her. Violetta then decides to leave Paris to live with Alfredo in the countryside. His father, however, joins Violetta to ask her to end the relationship with his son, as he is compromising the honor of his family. Alfredo, unaware of the reason for his beloved's departure, discovers the truth only when it is too late and Violetta, consumed by consumption, dies in his arms.
Inspired by the well-known courtesan Marie Duplessis, the figure of Violetta really existed, and Alexandre Dumas son himself had lived a tormented love affair with her, before seeing her die of consumption very young.
Under the artistic direction of Giuseppina Cuccaro, sets and costumes by Sartoria Bolero, soprano Aleksandra Buczek, tenor Emil Alekperov.
Photo: courtesy of Flaiano Theater official site
Informations
When
from 3 April 2022
to 29 May 2022
POINT (12.479178 41.89673)
Contacts
Email:
info@operaelirica.com
Instagram:
www.instagram.com/operaelirica
Web site:
www.opera-lirica.com/it/36-la-traviata-al-teatro-flaiano.html
Timetables
3, 10 e 24 aprile 2022
1, 8, 15, 22 e 29 maggio 2022
ORARIO DI APERTURA ore 20.00
ORARIO DI INIZIO ore 20.30
Condividi
Location
La Traviata al Teatro Flaiano, Via Santo Stefano del Cacco, 15
Via Santo Stefano del Cacco, 15
41° 53' 48.228" N, 12° 28' 45.0408" E