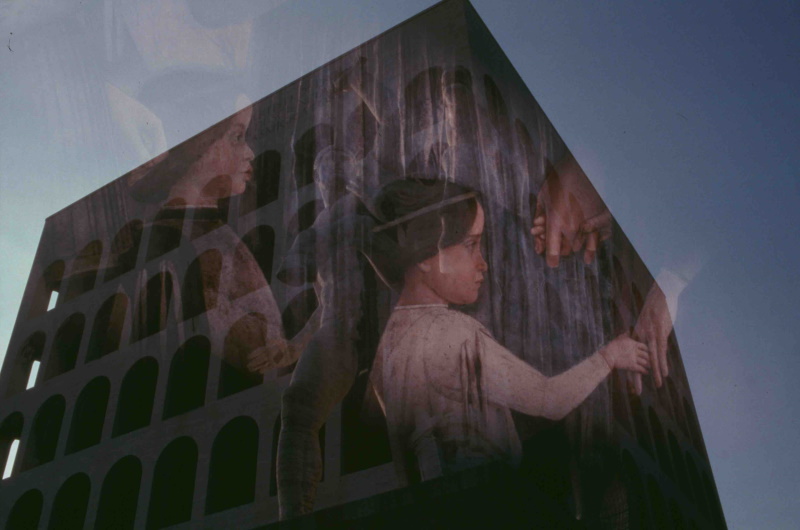 Ten photos on the city of Rome, exhibited for the first time in Italy and made in double exposure within the same frame, give life to a unique visual project, a journey into the memory of time.
Curated by Nestor Saied and Giovanni Storaro, the exhibition is a continuous cultural discovery of what the Roman civilization, and all those that followed and preceded it, have left to history.
The images, inspired by the thought of a light, by the imagination of color, by the intuition of an element, are the Photo-graphic expression within Vittorio Storaro's Roman Civilization.
The project has three sections:
- The memory, the waters, the afterlife, the defense, the emperors, based on the theme of LIGHT around whose nucleus the relationship between Moon and Sun, Darkness and Unconscious, rotates;
- The triumphs, the empresses, the divinities, the edifications, the nature, based on the theme of COLOURS, around whose nucleus the relationship between Masculine and Feminine, between Matter and Conscious, rotates;
- The law, the representations, the seven hills, the empire, the imagination based on the theme of ELEMENTS, around whose nucleus the relationship between Natural and Artificial, between Energy and Supra-conscious, revolves.
Vittorio Storaro, at the height of his film career (three Oscars: for Apocalypse Now by Francis Ford Coppola, for Reds by Warren Beatty, and The Last Emperor by Bernando Bertolucci), devoted several years to the study of symbolism, philosophy, and dramaturgy.
The Roman Civilization, a reinterpretation of its creative concepts, is a project to deepen the knowledge of the Visual Arts and its own historical, social, and cultural roots.
Informations
When
from 17 June 2021
to 10 September 2021
POINT (12.4767227 41.909698)
Contacts
Email:
nuova.pesa@gmail.com
Facebook:
www.facebook.com/lanuovapesa/
Instagram:
www.instagram.com/lanuovapesa/
Web site:
www.nuovapesa.it
Timetables
dal 17 giugno al 10 settembre 2021
Orario: 10.00-13.30 - 16.00-19.30
Gli ingressi saranno contingentati nel massimo rispetto delle regole vigenti. Sarà altresì possibile prenotare le visite ai seguenti contatti:
tel. 06 361 0892
email: nuovapesa@farm.it
Condividi
Location
La Civiltà Romana, Via del Corso, 530
41° 54' 34.9128" N, 12° 28' 36.2028" E