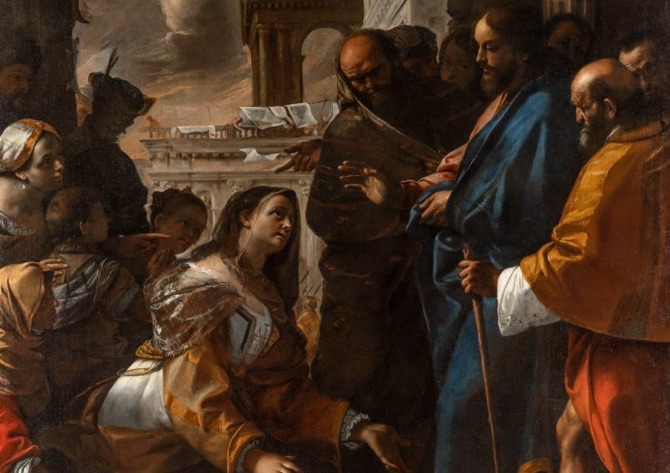 Nella sede di Palazzo Barberini, un focus su La Cananea restaurata. Nuove scoperte su Mattia e Gregorio Preti, a cura di Alessandro Cosma e Yuri Primarosa, incentrato sulla grande tela raffigurante Cristo e la Cananea di Mattia Preti, restaurata dal laboratorio delle Gallerie Nazionali.
Questo capolavoro di collezione privata, proveniente dalla quadreria dei Principi Colonna, esposto l'anno scorso a Palazzo Barberini in occasione della mostra Il trionfo dei sensi. Nuova luce su Mattia e Gregorio Preti, costituisce un'importante aggiunta al periodo romano di Mattia Preti e testimonia l'influsso della pittura veneziana – di Tintoretto e Veronese in particolare – sull'arte del "Cavalier calabrese".
Accanto a questo dipinto saranno esposti alcuni quadri di grande formato eseguiti autonomamente o a quattro mani dai fratelli Gregorio e Mattia Preti nella seconda metà del Seicento.
Dei due fratelli è l'Allegoria dei cinque sensi della collezione Barberini, nella quale i filosofi Eraclito e Democrito esortano a giudicare razionalmente i piaceri derivati dalle esperienze sensoriali. Mentre solo di Gregorio il dipinto Nozze di Cana del Pontificio Istituto Teutonico – per la prima volta esposto al pubblico – che testimonia lo stile attardato del pittore e lontano dalle raffinatezze del fratello, evidenti ad esempio nella Cena del ricco Epulone delle Gallerie Nazionali.
Quello di Gregorio, tuttavia, è un linguaggio discontinuo con risultati talvolta di grande qualità come nella Sant'Orsola di Santa Maria dell'Anima, databile tra il 1635 e il 1640, ritrovata da Alessandro Mascherucci e Yuri Primarosa negli ambienti privati del Pontificio Teutonico e anch'essa mai esposta al pubblico.
La collaborazione fra i fratelli si interrompe nel 1642 quando Mattia viene nominato cavaliere dell'Ordine di Malta e inizia un percorso indipendente, salvo ritrovarsi nel 1652 per dipingere insieme la controfacciata di San Carlo ai Catinari, dove appare sempre più evidente la distanza tra il mestiere di Gregorio e il talento di Mattia, in partenza da Roma l'anno successivo per proseguire a Napoli e a Malta la sua carriera.
Informations
When
from 12 November 2020
to 4 July 2021
POINT (12.4900477 41.9031496)
Contacts
Online purchase:
www.gebart.it/musei/gallerie-nazionali-barberini-corsini-palazzo-barberini
Web site:
www.barberinicorsini.org/evento/la-cananea-restaurata-nuove-scoperte-su-mattia-e-gregorio-preti/
Timetables
From 12 November to 2 May 2021-extended to 4 July 2021
Museums and Cultural Sites are subject at the COVID containment policy.
For visiting schedules and procedures, please contact the official websites.
Condividi
Location
La Cananea restaurata. Nuove scoperte su Mattia e Gregorio Preti, Via delle Quattro Fontane, 13
Via delle Quattro Fontane, 13
41° 54' 11.34" N, 12° 29' 24.1728" E