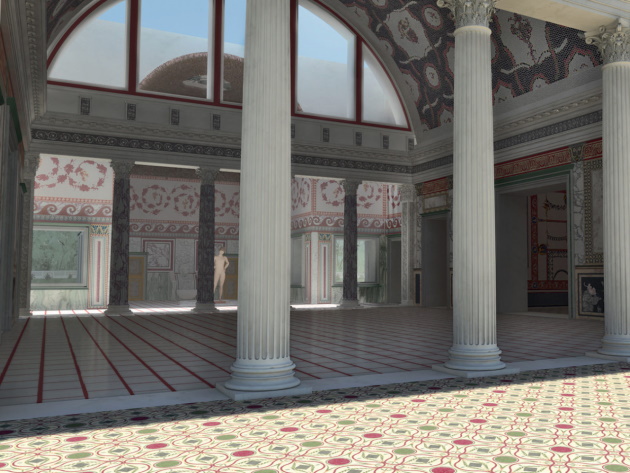 "[...] a  mansion in which the jewels and gold, long familiar objects, quite vulgarised by our extravagance, were not so marvellous as the fields and lakes, with woods on one side to resemble a wilderness, and, on the other, open spaces and extensive views". This is how the Roman historian Tacitus described the splendor of the new extraordinary residence of the emperor Nero, built in just four years on the ruins of the Domus Transitoria, and part of the ambitious urban renewal project of Rome desired by the "artist and poet" emperor.
Waiting for the completion of the restoration, the Domus Aurea comes to life again thanks to state-of-the-art multimedia technology. It is a true journey through time that allows the public to walk for 75 minutes through the original rooms of the palace, thanks to immersive reality and video narrative. Visitors will admire its portico, the rich halls, the general magnificence and that attention to detail recounted by Tacitus, enjoy the garden and the view of the Palatine among the gurgling water of the fountains, women with long peplos, majestic colonnades, lightshows and flights of birds, tricliniums and fruit baskets.
The 12 stage itinerary is enhanced and enriched by new multimedia applications – special lighting effects at the most significant points, emotional projection on the history of the Domus Aurea, illuminated reconstructive panels, video-mapping of the entrance gallery, and virtual reality installations that offer a reconstruction of the "Hall with the Gilded Vault" as it was in Nero's time, for a a completely new cognitive and emotional adventure. It is also possible, by looking towards the large opening to the south, to look outside, towards the luxurious gardens of the pavilion of Colle Oppio and in the distance towards the other monuments that made up the Domus Aurea.
Informations
When
from 6 May 2022
to 31 December 2023
POINT (12.495374 41.890839)
Contacts
Online purchase:
https://ecm.coopculture.it/index.php?option=com_snapp&view=products&catalogid=DE4359A9-1EB0-7688-55DD-017A1BBB52B3&snappTemplate=template3&lang=it
Web site:
www.coopculture.it/it/prodotti/domus-aurea-experience
Timetables
From 6 May to 31 December 2022
Friday to Sunday
9.15 to 17.00
Tours depart every 15 minutes
Restricted access and shifts of a maximum of 23 people every 15 minutes (guide included)
Closed 1 January, 1 May and 25 December
Condividi
Location
Domus Aurea Experience, Via della Domus Aurea, 1
41° 53' 27.0204" N, 12° 29' 43.3464" E