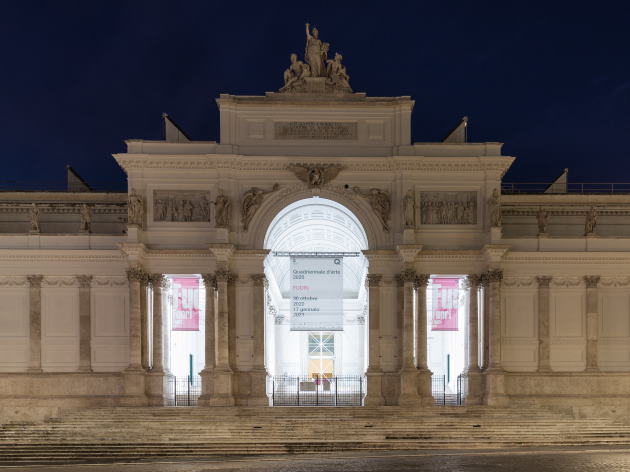 While inside the Palazzo delle Esposizioni the 2020 Art Quadrennial, extended until spring 2021, awaits its reopening to the public, outside the Palazzo, the large outdoor light installation by Norma Jeane continues to be visible to anyone who passes on Via Nazionale keeping present and alive the connection between the exhibition and the visitor.
Corpo di fabbrica is a site-specific work made possible thanks to the collaboration between the Fondazione Quadriennale di Roma and the Azienda Speciale Palaexpo, a work of art that "breathes" by making the external arches of the palace pulsate with light from sunset until 8 am. The light pulsations follow in real time the frequency and intensity of the artist's breath connected at a distance through a wearable device: a way to reflect on the symbiotic relationship between man and technology but also on the meaning of breath, which is very present in the course of this 2020.
The work was carried out with the collaboration of the Department of Electronics, Information and Bioengineering of the Politecnico di Milano represented by the inventors of the patent for the Respirhò device Andrea Aliverti and Ambra Cesareo (together with Alessandra Angelucci and Lorenzo Francioli).
Informations
When
from 20 November 2020
to 18 July 2021
POINT (12.490471 41.898935)
POINT (12.489286 41.899826)
POINT (12.489504 41.8995108)
POINT (12.489504 41.8995108)
Contacts
Email:
info.pde@palaexpo.it
Facebook:
www.facebook.com/PalazzoEsposizioni
Instagram:
www.instagram.com/palazzoesposizioni
Online purchase:
www.coopculture.it/heritage.cfm?id=57
Telephone:
06 39967500 (Info e prenotazioni Coopculture) e 848 082408 (scuole)
Twitter:
www.twitter.com/Esposizioni
Web site:
www.palazzoesposizioni.it
YouTube:
www.youtube.com/user/PalazzoEsposizioni
Timetables
Extended to 18 July
from 20 to 8
Condividi
Locations
Corpo di fabbrica, Via Nazionale, 194
41° 53' 56.166" N, 12° 29' 25.6956" E
Corpo di fabbrica, Via Piacenza, snc
41° 53' 59.3736" N, 12° 29' 21.4296" E
Corpo di fabbrica, Via Milano, 13
41° 53' 58.2396" N, 12° 29' 22.2144" E
Corpo di fabbrica, Via Milano, 9A
41° 53' 58.2396" N, 12° 29' 22.2144" E