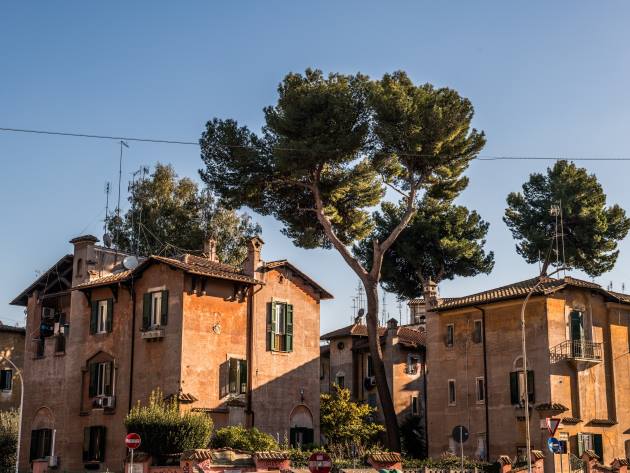 Until February 25, the Garbatella district invites you to celebrate its 100th birthday with a party full of cultural and musical events, guided tours and activities for children.
The historic Roman district, born from the mind of Robert Owen, a brilliant British businessman, was built on 18 February 1920, the day on which the foundation stone of this human-sized architecture was laid.
Following the increase in the population of urban centers, the quality of life, especially for the working classes, was dramatic. Owen conceived self-sufficient residential areas surrounded by greenery, not far from the city, but with the advantages of a healthy and less congested environment: the garden city was born.
The 1920 urban plan by the architect Gustavo Giovannoni presented curvilinear road layouts, semi-detached or multi-family houses with garden, in addition to the so-called "intensive" buildings, structures characterized by high population density, such as churches, schools, post offices, and shops.
The first nucleus of the Garbatella district, built around Piazza Benedetto Brin, which was supposed to become the working village of the nearby industrial area of ​​Ostiense, welcomed, instead, the inhabitants of the areas around San Pietro, when via della Conciliazione was built. Today, the houses with internal courtyards and small plots of land, the picturesque, vernacular and medieval hints, as well as the contemporary Street Art, create an environment suspended in time, a city of silence.
Garbatella was a muse from the Neorealist cinema and beyond, Pasolini, Daniel Pennac, Enzo Ventre; born or raised in this district: Alberto Sordi, Maurizio Arena, Enrico Montesano, Victor Cavallo, Valerio Mastandrea, and Alessandro Borghi.
A walk without a precise destination, through narrow streets to discover a fantastic architecture that the city has no longer created, is the best way to discover a truly separate world.
Informazioni
Quando
from 26 January 2020
to 25 February 2020
POINT (12.4836125 41.862283)
Contatti
Email:
itaca.associazione@gmail.com
Facebook:
www.facebook.com/Buoncompleannogarbatella/
Web site:
www.buoncompleannogarbatella.it/
Web site:
www.comune.roma.it/web/it/notizia.page?contentId=NWS528870
Orari
Dal 26 gennaio al 25 febbraio 2020
nei luoghi e negli orari indicati nella descrizione

Condividi
Location
Buon compleanno Garbatella - Centenario del quartiere, Via della Garbatella
41° 51' 44.2188" N, 12° 29' 1.0068" E