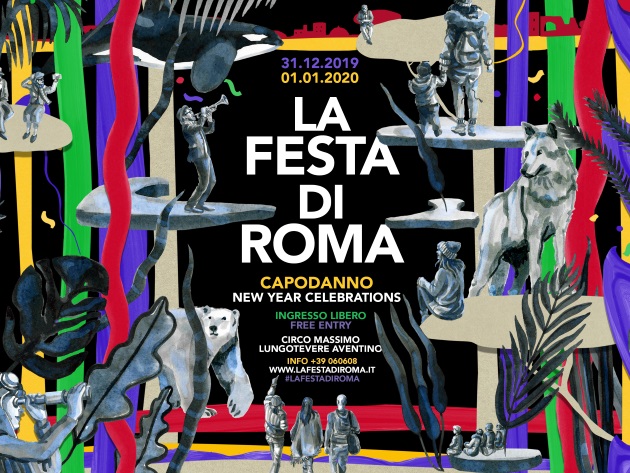 from 7 November 2019
to 31 December 2019
A party open to everybody that transforms the city into a spectacular open-air stage: for the fourth year in a row, La Festa di Roma welcomes the new year with an explosion of colors, sounds, and magic atmospheres thanks to the extraordinary collaboration between Roma Capitale and the city's main cultural institutions and foundations.
1,000 Italian and international artists, exciting and enthralling music, acrobatic shows and parades, in addition to the traditional fireworks, are just some of the ingredients making up an unmissable 24 hours of entertainment and sharing. And that's not all: the 2020 edition is dedicated to our Planet, our common home in which we have the privilege to live and that we have the duty to protect.
The fairy tales by Ascanio Celestini, the music of the Rustica X Band, composed exclusively of children and adolescents, and the aerial dance of the Andalusian company Aerial Jockey Strada open the initiative at the Circus Maximus on the evening of 31 December: past midnight, let's dance until the first light of dawn with the mix of indie-rock, house and electro music from Skin, the charming leader of the London band Skunk Anansie and undisputed spokesman for human rights.
On 1 January the journey through nature continues with artistic performances and site-specific installations, giving new colors to the many architectures of the city, the Tiber river, the gardens, and the green areas. From the early hours of the afternoon, the party's protagonists are Piazza dell'Emporio, Ponte Fabricio, the Giardino degli Aranci and Piazza Bocca della Verità, animated by unusual and spectacular luminous spiders.
Many artistic events will be realized with the direct involvement of the citizens, both within the performances and through call. Finally, an important role is played by the parades, to poetically remind everyone that ecosystems touch and contaminate each other and that it is precisely in diversity and contamination that the Earth becomes stronger and more beautiful.
Free admission to all events
Phone +39 060608 (9 am - 7 pm)
#lafestadiroma
 

Condividi