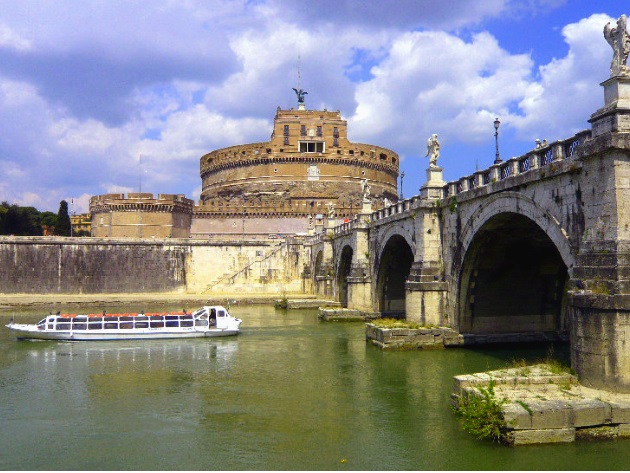 Water courses have always been a key element in the birth and development of civilizations. Rome is no exception: as a vital source, its river, the Tiber, has covered a fundamental role in the history of the imperial city as a primary communication route and a natural defence.
The myth refers to the Tiber from the foundation of Rome, when Romulus and Remus were abandoned on its banks. To the river was also dedicated the cult of the Pater Tiberinus, whose temple was located on the characteristic Tiberine Island.
Today its waters placidly cross the City, enclosed by the high walls built at the end of the 19th century. Many sections of its course are navigable and offer unique views and unusual itineraries for visits: history, nature and romance blend along its banks of rare beauty.
Boat trips are an opportunity to visit the city from a different and original point of view, departing from the Sant'Angelo boarding point you can reach the Tiberine Island. From Ponte Marconi, instead, it is possible to reach the Excavations of Ostia Antica, the Port of Traiano and the Mouth of the Tiber in the area of Fiumicino, to enjoy the flora and fauna bio-diversity and its incomparable archaeological heritage.
ROME BOAT EXPERIENCE
Service available every day from April to October
Boarding Points:
Embarkation Point A - Isola Tiberina - Lungotevere Degli Anguillara side
Embarkation Point B – Sant'Angelo Bridge - Lungotevere Tor Di Nona side
Embarkation Point C – Palazzo di Giustizia - Lungotevere Marzio
Embarkation Point D – Piazza del Popolo - Lungotevere In Augusta
Embarkation Point E - Vatican City - Lungotevere Castello
Frequency: a boat every 30 minutes at each boarding point
First ride: 10.00 am (from the Sant'Angelo and the Tiberine Island Embarkation Points)
Last ride: 6.30 pm (from the Sant'Angelo and the Tiberine Island Embarkation Points)
Audio guides in 6 languages (Chinese, French, English, Italian, Spanish and German)
Rome Boat Experience offers different types of boat navigation:
HOP-ON HOP-OFF CRUISE - On board: multilingual staff and commentary (English, Italian, Spanish, German, French and Japanese)
ONE ROUND TRIP - It has the same boarding points as the classic hop-on hop-off tour. Ticket duration 1 hour, possibility of getting on and off at each embarkation point only once.
DINNER CRUISE WITH LIVE MUSIC - A new menu every 2 weeks consisting of 4 courses. Water and coffee included.
WINE BAR/APERITIF CRUISE - Menu: a 250ml bottle of wine for 2 people (to be chosen on the spot between red or white) and a typical Roman aperitif. For minors, a non-alcoholic drink replaces the wine.
RIDE & SAIL COMBINED TOUR - The tour includes a 24h ticket for the hop-on hop-off cruise and a 24h ticket for the double-decker bus tour.
PRIVATE RENTAL - All boats are available for private and charter hire and are equipped to organize private dinners. Minimum 2 hours - On request
Always check the timetables and the rates on the official website.
The Reservation Office is open Monday to Friday from 9.30 am to 6.30 pm.
The company reserves the right to alter or cancel the itinerary of the boat at any time, due to river conditions or other events beyond its control.
Website: www.romeboatexperience.com
GITE SUL TEVERE
Available all year round
Boat trip along the Tiber from Tiberine Island to Saint Peter, from Ponte Marconi to Ostia Antica, from Ostia Antica to the Mouth of the Tiber, from Ponte Marconi to the Port of Trajan. It is also possible to go up river on the opposite direction.
Available for individuals and groups as well as for schools with an authorized guide.
Possibility of organizing birthday parties, corporate events, ceremonies and private parties with themed installations. Entertainment, line dancing, live music, DJ sets, cabaret, car rental, fireworks, video and photo services, wedding planning.
The company reserves the right to alter or cancel the itinerary of the boat at any time, due to river conditions or other events beyond its control.
Website: gitesultevere.it
COOPERATIVA IL SOGNO: BOATS TO OSTIA
Boat trip on the Tiber from Ponte Marconi to Ostia Antica
One way boat trip with visit to the Excavations of Ostia Antica.
Address: Guglielmo Marconi Bridge
From  September 1 to  October 30 and from March 15 to June 30. During the other periods, only by reservation and for groups of at least 40 people.
Every Sunday at 9.45 am
For groups of at least 30 people the service is available every day except Monday.
The Tiber: the environment as an educational experience.
The boat trip allows you to explore the river ecosystem: birds, fishes, plants and many other organisms live in an environment that is constantly threatened by pollution and human presence.
Guide on board with historical and naturalistic explanation.
Visit to the Excavations of Ostia Antica: The daily life of a Roman city
The company reserves the right to alter or cancel the itinerary of the boat at any time, due to river conditions or other events beyond its control.
How to participate: Reservations required
Website: www.romeguide.it
THE GRAND TOUR: BOAT TRIP ALONG THE TIBER WITH VISIT TO OSTIA ANTICA
Boat trip along the Tiber from Ponte Marconi to Ostia Antica
Address: Guglielmo Marconi Bridge
The tour: Via dei Sepolcri and the Necropolis, Porta Romana, Piazza Vittoria, Decumano Massimo, Teatro of Ostia Antica, Piazzale delle Corporazioni, Capitolium, Latrina, etc.
Visit to the Excavations of Ostia Antica: Daily life of a Roman city
The ticket includes: boat trip, small breakfast, guide on board and guide to the Excavations. Entrance tickets to the Excavations are not included and cost € 8 per person, free for children under 18. The return is by metropolitan train at the cost of € 1.50.
Navigation is by reservation only for groups of at least 25 people.
For school groups, exclusively from Tuesday to Saturday, the participation fee is € 19.00 per student. Every 10 paying students, a free ticket for a teacher.
The company reserves the right to alter or cancel the itinerary of the boat at any time, due to river conditions or other events beyond its control.
How to participate: Reservations required
Website: www.thegrandtour.it
ASSOCIAZIONE ROMA BELLA: BOAT TRIP ALONG THE TIBER WITH VISIT TO OSTIA ANTICA
Boat trip along the Tiber from Ponte Marconi to Ostia Antica
Address: Guglielmo Marconi Bridge
The guided tour includes an illustration of the main monuments of Ostia Antica: the Necropolis of the Via Ostiense; the ancient Roman Gate of the defensive walls; the Decumanus Maximus; the Baths of Nettuno; the Roman Theatre; the Square of the Corporations; Foro Ostiense and its immediate adjacencies including the public latrine (forica), the Baths of the Foro, the Capitolium, the Thermopolium and the Molini.
NB: The route can be reversed (with adequate notice) depending on the availability of the boats. In this case, the visit to the excavations is from 10.00 am to 12.00 am. In the early afternoon, after the picnic break, the boat goes up river to Rome - Ponte Marconi. You will reach your destination at 4.30 pm.
The company reserves the right to alter or cancel the itinerary at any time, due to river conditions or other events beyond its control.
The boats have a capacity of 90 seats, with a closed cabin (useful in case of sudden bad weather), toilets and the possibility of accommodating handicapped people, also with wheelchair.
How to participate: Reservations required.
School trips only by reservation.
Website: www.visite-guidate-roma.com
ROMOLO E REMO: BOAT TRIP ALONG THE TIBER TO OSTIA ANTICA
Address: Guglielmo Marconi Bridge
The commented tour lasts about 2h and 30min and goes from Ponte Marconi to Ostia Antica, or up river, from Ostia Antica to Ponte Marconi. The guided visit takes about 2h.
To perform both activities, as well as the lunch break, a whole day should be considered.
The 90-seat motorboats have a closed cabin and are arranged to accommodate disabled people. They offer the possibility to navigate along the course of the Tiber, spending a pleasant day immersed in nature and history, admiring the view from Ponte Marconi to Ostia Antica and vice versa. The guided visit to the Excavations is carried out by professional archaeologist.
The company reserves the right to alter or cancel the itinerary of the boat at any time, due to river conditions or other events beyond its control.
How to participate: Reservations required.
School trips only by reservation.
Website: www.amicidiroma.it
VIVA VIAGGI: BOAT TRIP ALONG THE TIBER WITH VISIT TO OSTIA ANTICA
Address: Guglielmo Marconi Bridge
Every day except Monday, from 9.30 am to 3.00 pm
School Trips
The proposed route combines boat navigation along the Tiber with a visit to the Excavations of Ostia Antica. An ideal excursion to re-evaluate and get in touch with the cultural and environmental heritage of the Roman coast, to rediscover the daily life in a Roman city and the value of the Tiber river during its 2800-year history and its natural environment.
The first part of the tour includes boat navigation along the Tiber with a guide on board for the section between Rome and the Excavations of Ostia Antica.
The second part of the tour is dedicated to a guided visit to the archaeological site.
The service is carried out exclusively by tourist guides qualified by the Province of Rome, experts in the field of school education and specialized in historical-archaeological and naturalistic subjects.
Note: the transfer from the Ostia Antica landing to the entrance of the Excavations can be done on foot (15 ′), or by a shuttle service at a cost of € 1.00 per student to be paid locally (availability to be verified at the time of booking).
How to participate: Reservations required
Website: www.storiavivaviaggi.it