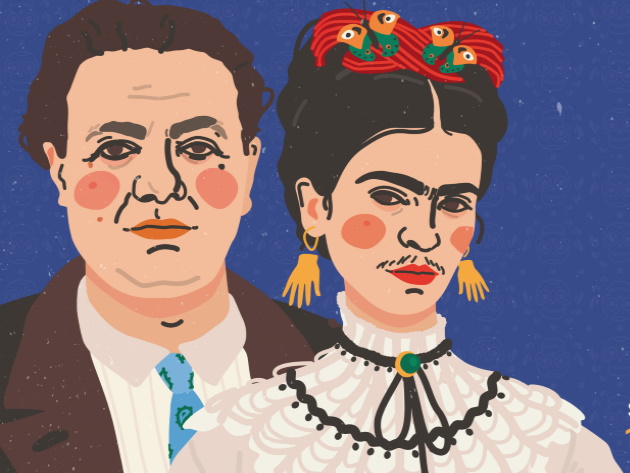 The great exhibition-event organised by SET explores the complex inner world of Frida Kahlo, highlighting the brilliant sensitivity, the transgressive force and profound imagination of one of the 20th century most appreciated and celebrated icons.
Her works mirror her autobiographical story, a chaos of events and passions that gave impulse to her art, while reflecting the social and cultural transformations of the world around her. This same vividness emerges in her poems, in the pages of the journal, in the photographs that depict her wearing the typical Mexican folklore clothes.
The exhibition represents an excellent opportunity for traveling in this world and learning about the intimate and personal history of a unique artist: "Frida Kahlo - Il Caos dentro" (Frida Kahlo - The Chaos Inside) is indeed a photographic and interactive, immersive and sensorial journey, involving the public through the use of multimedia tools.
Besides self-portraits and paintings in Modlight format, the exhibition includes some original works by her husband Diego Rivera, a photo gallery of the couple by the famous South American photographer Leo Matiz, passionate letters, journal pages, clothes and jewels inspired by the artist. The reconstruction of the spaces in which Frida lived, with the bedroom, the study and the garden of the Casa Azul, allows reaching the most hidden corners of her obsessions and her symbolism.
A special section is dedicated to the international stamps issued to celebrate her.
Informazioni
Quando
from 12 October 2019
to 29 March 2020
POINT (12.4981083 41.9186906)
Contatti
Email:
info@navigaresrl.com
Facebook:
www.facebook.com/events/690810034699459/
Mobile phone:
388 8507930
Online purchase:
www.ticketone.it/biglietti.html?affiliate=ITO&doc=artistPages/tickets&fun=artist&action=tickets&erid=2545571&includeOnlybookable=false&x10=1&x11=frida
Web site:
www.spazioeventitirso.it/frida-kahlo-il-caos-dentro/
Web site:
www.mostrafridakahlo.it
Orari
Dal 12 Ottobre 2019 al 29 Marzo 2020
Dal lunedì al venerdì dalle ore 9.30 alle 20.00
Sabato e domenica dalle ore 09.30 alle 21.00
Aperto tutti i giorni
Ultimo ingresso trenta minuti prima dell'orario di chiusura

Condividi
Location
Frida Kahlo - Il caos dentro, Via Tirso, 16
41° 55' 7.2876" N, 12° 29' 53.1888" E