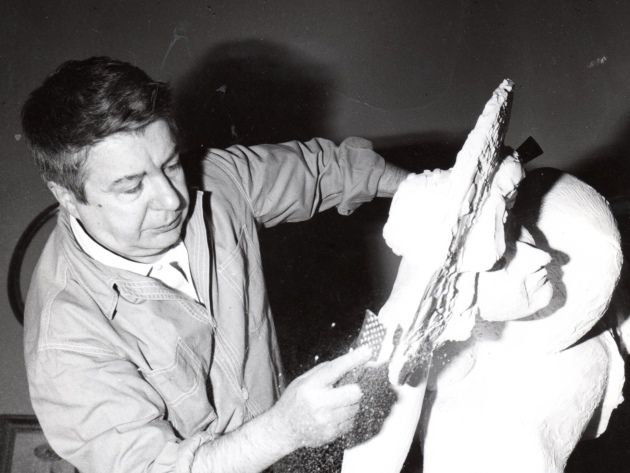 A few minutes after having crossed Via Cassia Antica and Via Cassia Nuova , in a
quiet and peaceful place, we can find the house museum of the sculptor Venanzo Crocetti (1913 – 2003). The building, wanted by Crocetti after he won the contest in 1951 for making The St. Peter's door (the bronze door of the Vatican Church), was considered to be perfect for a very large artist studio where he made The Door of the Sacraments. It took him fourteen years to make this impressive artwork. Two more
buildings were added to Crocetti's studio: the house where he lived until he passed, in 2003, and the museum, opened in 2002, with the permanent exhibition of his sculptures. The house, which still has the original furniture, is a confirmation of his reflective personality and simple life that he lived all the time. His permanent exhibition is organized in five different rooms on two levels and has sculptures made by Crocetti in over seventy years of work and creational activity. The bronze and marble sculptures on display were made between 1931 and 1998.
Informazioni
Indirizzo
POINT (12.4543813 41.9592351)
Orari
Monday- Friday: 11.00 am - 7.00 pm
Closed: Sunday
Contatti
Email:
info@fondazionecrocetti.it
Email:
fondazionecrocetti@pec.it
Telephone:
+39 06 33711468
Web site:
www.fondazionecrocetti.it

Condividi
Location
Museo Fondazione Venanzo Crocetti, Via Cassia, 492
41° 57' 33.246" N, 12° 27' 15.7716" E