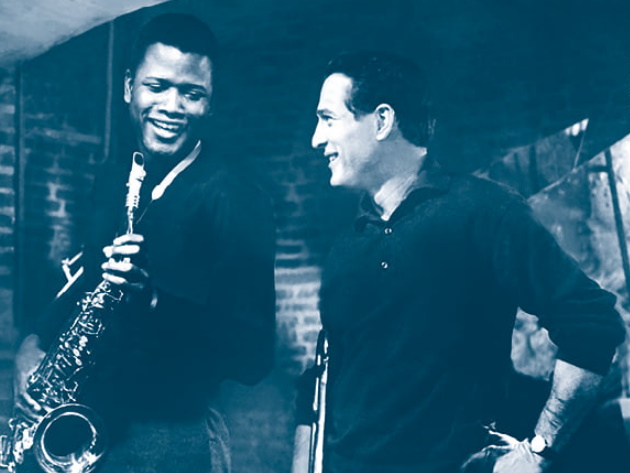 Rome confirms its indissoluble bond with the Seventh Art by kicking off the 15th edition of the Rome Film Fest at the Auditorium Parco della Musica and in other places in the city.
The structure designed by Renzo Piano is the fulcrum of the event and hosts screenings, meetings, events, exhibitions, installations, conferences, and debates. The 1300 m avenue leading to the Cavea is transformed into one of the longest red carpets in the world.
Sidney Poitier and Paul Newman are the protagonists of the official poster of this edition. The photo, taken during the shooting of Paris Blues by Martin Ritt (1961), the film nominated for the Oscar® for Best Soundtrack, composed by Duke Ellington, is a tribute to these two icons in the history of cinema. The sense of complicity, the joy of being together, the experiences we share, the value of human and artistic collaboration depicted in the picture are also the beat of the 2020 Rome Film Fest.
Disney and Pixar's Soul, from director Pete Docter, will open the festival. The American director, screenwriter, animator, and producer Pete Docter, currently the Chief Creative Officer of Pixar Animation Studios and winner of two Oscars® for Up and Inside Out, is the director of Soul, his new animated film that takes audiences on a journey to discover answers to some of the most important questions of life: where do our passions come from? From where do we get those dreams that inspire us and the interests that drive us? What makes us who we are?
The Rome Film Fest's lineup will feature the film Mi chiamo Francesco Totti by the award-winning director Alex Infascelli (Almost Blue, S Is for Stanley). It is the night before Totti's touching football farewell. The AS Roma iconic Captain retraces his entire life as if he saw it projected on a screen together with its spectators. Images and emotions scroll across the screen with the key moments of his career that alternate with scenes of his private life and memories. An intimate tale, told in the first person, about the sportsman and the man behind the famous football player. Directed by Alex Infascelli – story and screenplay by Alex Infascelli and Vincenzo Scuccimarra – the film is based on the book Un Capitano written by Francesco Totti with Paolo Condò.
Thanks to the collaboration with SIAE, the music of Maestro Ennio Morricone will accompany talent, guests, and the public on the red carpet of the event.
You may also be interested in
Auditorium Parco della Musica

Condividi
Informations
When
from 15 October 2020
to 25 October 2020
Contacts
Facebook:
www.facebook.com/romacinemafest
Instagram:
www.instagram.com/romacinemafest/
Twitter:
https://twitter.com/romacinemafest
Web site:
https://www.romacinemafest.it/festa-del-cinema-di-roma/
Timetables
Dal 15 al 25 ottobre 2020

Condividi
Location
#RomaFF15 - Festa del Cinema di Roma 2020, Viale Pietro De Coubertin, 30
Viale Pietro De Coubertin, 30
41° 55' 44.8212" N, 12° 28' 30.6876" E