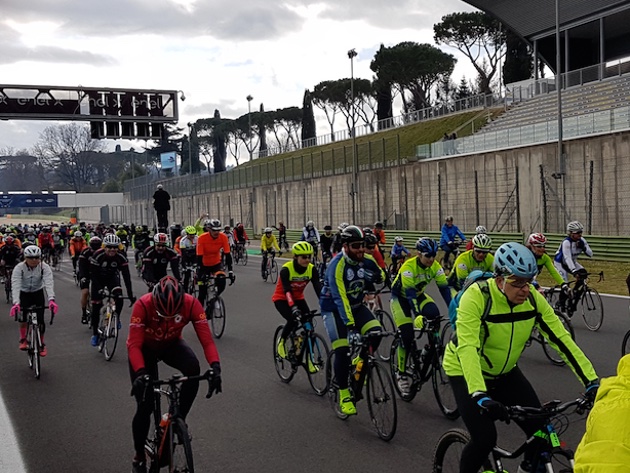 The Roma XXIVh Three events in one, the only sporting event of its kind in Europe, which, for the first time, brings together bicycle races, good food and music, is kicking off.
The sporting event was born from the professional and human partnership between Emiliano Cantagallo, a well-known name in Italian cycling tourism, also for having founded, on the slopes of Monte Zoncolan - in Friuli-Venezia Giulia - the first hotel in the world exclusively for cyclists, Pendenze Pericolose (Dangerous Slopes), and the ex F1 driver Giancarlo Fisichella, passionate cyclist.
The Vallelunga Racetrack thus becomes a perfect setting for the Endurance Cycling Race on an area of ​​over 15,000 square meters in which solo and team cyclists from all over the world compete to see who among them will be able to cover the most kilometers within 24 hours. Both experienced and prepared cyclists and amateurs can participate in the race, alone or in a team.
As part of the event there is also the Bike Test in which 24 of the biggest bicycle shops in Rome, which have their headquarters in the pits of the racetrack, present the best of world production with the chance of carrying out tests on 35 hectares of the Roma Bike Park, with four tracks in an area of ​​archaeological interest which includes the presence of Roman roads in basalt and archaeological remains of the fourth century BC.
Photo credits: Courtesy of Bike Park official site
Informations
When
from 2 October 2021
to 3 October 2021
Contacts
Email:
info@romabikepark.it
Facebook:
www.facebook.com/ROMAXXIVH
Instagram:
www.instagram.com/romabikepark
Mobile phone:
335 1978467
Web site:
https://romabikepark.it/la-24h-di-roma
Timetables
Da sabato 2 ottobre 2021 ore 10.00 a domenica 3 ottobre ore 10.00
Autodromo di Vallelunga
Via della Mola Maggiorana, 4 - Campagnano di Roma
Regolamento della manifestazione

Condividi