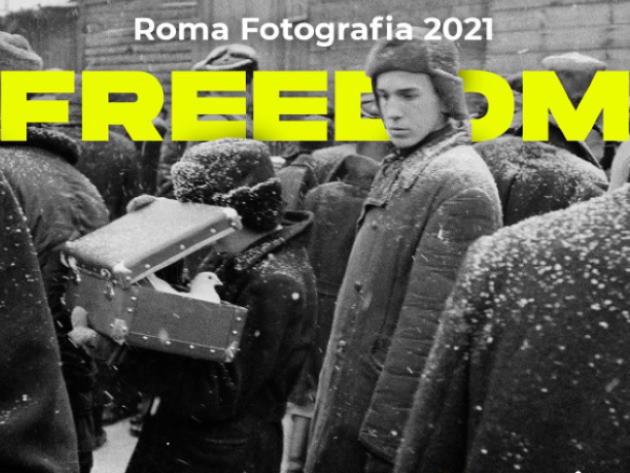 Calls, exhibitions, talks and much more: organized in collaboration with the Lazio Region, Palazzo Merulana, Coopculture, Istituto Luce - Cinecittà, Stadio di Domiziano, Comitato Mura Latine and Bresciani Visual Art, Roma Fotografia is a unique event, an inclusive, sustainable and creative festival that uses the language of photography to talk about art, science, society and culture, about the great changes of the present and the challenges of the future.
Entitled FREEDOM, the 2021 edition is dedicated to the theme of freedom, a theme that runs through the entire and unusually long program built around three fundamental pillars: photo calls, exhibition events, the prize dedicated to female photography. The festival starts at Palazzo Merulana with the projection of video installations created thanks to the international call "Life in the Time of Coronavirus", three video-stories that interact until 30 June with the works of art of the Cerasi Collection: "Shutdown", which narrates the female gaze and reality during the pandemic; "After 11/03", on the days in which the pandemic is officially declared in the world; and "Roma Fotografia", the video installation including a selection of over 10,000 images received from all over the world.
Also until 30 June it is possible to participate in the call "FREEDOM - Life After in the Time of Coronavirus" inviting professional photographers and photography enthusiasts to explore the concept of freedom and interpret it according to dreams, needs, deprivations experienced during the pandemic. Linked to the call is also the "Fotografia al femminile Bresciani Visual Art" award dedicated to women, their gaze and their photographic interpretation of such a complex theme. The selected works will participate in an exhibition scheduled from 1 to 31 October at the Bresciani Visual Art gallery.
From July until the end of November, the festival program also includes numerous exhibition events. The Stadio di Domiziano hosts three exhibitions: from 16 July to 1 August, "Hotel Habana Libre", with images taken in Cuba to tell the lightness of freedom; from 3 August to 2 September, "Viaggi nel quotidiano - dal cinema alla realtà 1966-2005", dedicated to the photographer Pino Settanni; from 4 to 30 September, "Il Tempo Sospeso", exploring North Korea through the unpublished images of Umberto Stefanelli. In autumn, from 21 October to 28 November, Palazzo Merulana opens its doors to the exhibition "Caio Mario Garrubba - FREElance sulla strada" on the life and works of the artist who embodied the spirit of the freelance photographer.
The Roma Fotografia initiatives also include the CONTACT Masterclass for ten photographers under 35, and portfolio readings thanks to the sixth edition of the Italy Photo Award, an award that aims to bring out young talents alongside established photographers.
For more information, visit www.roma-fotografia.it.
Informations
When
from 21 May 2021
to 21 December 2021
Contacts
Email:
info@roma-fotografia.it
Facebook:
www.facebook.com/romafotografiaeventi
Instagram:
www.instagram.com/romafotografiaeventi
Twitter:
https://twitter.com/Roma_Fotografia
Web site:
www.roma-fotografia.it
YouTube:
www.youtube.com/channel/UCGf5rVksxMNDja5yhFQD6ug
Timetables
Programma Video Installazioni e talk

VIDEO INSTALLAZIONE
Call internazionale "Life in the time of Coronavirus"
Palazzo Merulana Sala Proiezioni terzo piano
Dal 21 maggio 2021
VIDEO INSTALLAZIONE
Call internazionale "FREEDOM"
Palazzo Merulana Sala Proiezioni terzo piano
Dal 2 al 30 agosto 2021
VIDEO INSTALLAZIONE
Migliori portfolio ITALY PHOTO AWARD
Palazzo Merulana Sala Proiezioni terzo piano
Dal 23 luglio al 30 agosto 2021
VIDEO INSTALLAZIONE
Melissa Ianniello "MY GIRL IS A BOY"
Palazzo Merulana Sala Proiezioni terzo piano
Dal 1 al 20 settembre 2021
VIDEO INSTALLAZIONE
Pierluig Ciambra "UNHEIMLICH"
Palazzo Merulana Sala Proiezioni terzo piano
Dal 22 settembre al 19 ottobre 2021
VIDEO INSTALLAZIONI E TALK
Mura Latine
Proiezioni e Talk
TALK
Face to face with our image
a cura di Maria Cristina Valeri
CITYLAB971 – via Salaria 971
27 giugno ore 19:00
ENTRATA LIBERA
TALK
Self(ie) confident
a cura di Maria Cristina Valeri
CITYLAB971 – via Salaria 971
11 luglio ore 19:00
ENTRATA LIBERA
Mostre
LUCIANO DEL CASTILLO
"Hotel Habana Libre"
Stadio di Domiziano
16 luglio – 31 luglio 2021
PINO SETTANNI
"Viaggi nel Quotidiano – dal cinema alla realtà 1966-2005"
Stadio di Domiziano
4 agosto – 30 settembre 2021
UMBERTO STEFANELLI
"Il Tempo Sospeso"
Stadio di Domiziano
4 agosto – 3 settembre 2021
PREMIO BRESCIANI VISUAL ART
"Mostra Collettiva"
Galleria Bresciani Visual Art
1 ottobre – 31 ottobre 2021
CAIO MARIO GARRUBBA
"FREElance sulla strada"
Palazzo Merulana
22 ottobre – 28 novembre 2021


Condividi