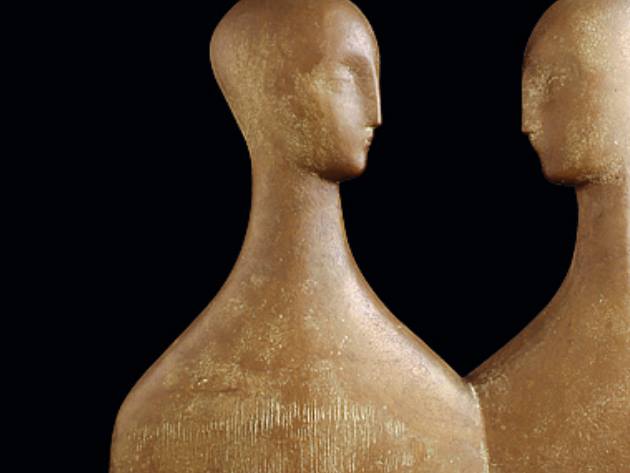 On the occasion of the 90th anniversary of the birth of Roberta Meldini, Palazzo Merulana hosts the first retrospective dedicated to the sculptress and designer who died in 2011.
Alongside the splendid Cerasi Collection, the exhibition, curated by Brigida Mascitti, displays a selection of over 50 works - 16 sculptures in bronze, concrete, and terracotta and 36 between paintings, engraving graphics and continuous line drawings - representative of the production of artist from the early 1970s to the late 1990s.
The works on display focus on three of Meldini's favourite themes: Women- sinuous monolithic figures depicted isolated, in different poses - portraits of people, and animals, a "humanized and typified" subject particularly dear to the artist, including bronzes, such as the Chant Clair, the Peacock, the Tortoise, the Chameleon and the Dying Cormorant.
As the curator highlights, the artist's different souls are represented through the common thread of "praise to life", in any form of expression - human, animal and natural - and her stylistic hallmark.
Meldini was born in Rimini, and completed her artistic education at the Academy of Fine Arts in Rome, as a pupil of great artists, such as Michele Guerrisi and Domenico Purificato. Her extraordinary work represents the constant search for an original and distinct sign. At the same time, it recalls the early 20th-century figurative sculptural production, with traces of the Archaic and Ancient, the 15th century and Renaissance, the innovation of Auguste Rodin, and the expressionism of Medardo Rosso.
Informations
When
from 3 February 2021
to 5 March 2021
POINT (12.5033064 41.8898717)
Contacts
Web site:
www.palazzomerulana.it/events/roberta-meldini-plastica-linearita-e-sinuosa-tridimensionalita-mostra-retrospettiva/
Timetables
From Monday to Friday
Entrance shifts every hour from 12 to 19 (last admission at 18)
Closed on Saturday and Sunday

Condividi
Location
Roberta Meldini. Plastica linearità e sinuosa tridimensionalità, Via Merulana, 121
41° 53' 23.5392" N, 12° 30' 11.9016" E