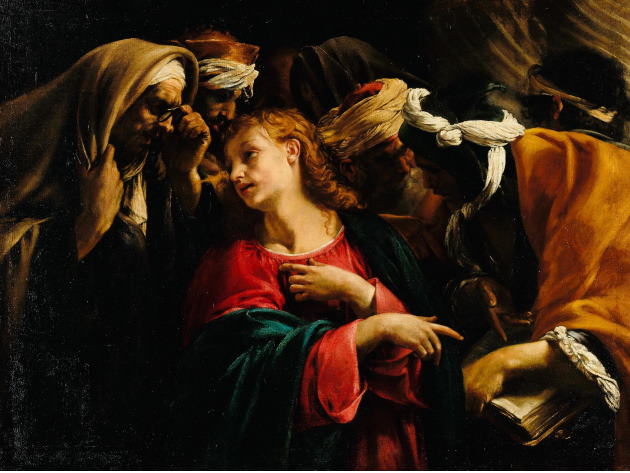 Curated by Gianni Papi, the first monographic exhibition on Orazio Borgianni (Rome, 1574-1616) takes place at Palazzo Barberini, where two masterpieces by the artist are preserved, the Self-portrait and the Holy Family with St. Elisabeth, the Infant St. John and an Angel, together with one of the richest and most important selection of Caravaggesque paintings in the world.
The exhibition comprises two sections. The first one exhibits 18 autographed works from important museums and collections, which highlight Borgianni's historical and artistic life and his activity in Rome between the first and second decades of the 17th century. It was here that the artist created his greatest masterpieces: although he absorbed Cararavaggio's innovations, his works are characterized by a variety of original stylistic solutions. 
The second section, with 17 works on display, gives space to that group of painters for whom Borgianni's influence was significant and sometimes decisive, including Antiveduto Gramatica, Giovanni Lanfranco, Carlo Saraceni, Giovanni Serodine, Simon Vouet.
 
Informations
When
from 5 March 2020
to 1 November 2020
POINT (12.4900477 41.9031496)
Contacts
Email:
gan-aar@beniculturali.it - info@barberinicorsini.org
Facebook:
https://www.facebook.com/BarberiniCorsini/
Hashtag:
#BarberiniCorsini
Instagram:
https://www.instagram.com/barberinicorsini/
Online purchase:
www.gebart.it/musei/gallerie-nazionali-barberini-corsini-palazzo-barberini/
Telephone:
+39 06 4814591
Telephone booking:
+39 06 32810
Twitter:
http://twitter.com/BarberiniCorsin
Web site:
https://www.barberinicorsini.org/
Timetables
Dal 5 marzo al 30 giugno 2020 Prorogata fino al 1° novembre 2020
Riapertura giovedì 11 giugno 2020 solo dal giovedì alla domenica dalle 10.00 alle 18.00 (ultimo ingresso ore 17.00)
Le visite per gruppi sono temporaneamente sospese. Anche il servizio guardaroba non è disponibile.
Invariato il costo del biglietto d'ingresso (€ 12 euro intero, € 2 euro ridotto), raddoppiato il periodo in cui può essere utilizzato in entrambe le sedi (20 giorni anziché 10).
La prenotazione è consigliata ma non obbligatoria.
L'accesso è regolamentato nel rispetto delle norme di prevenzione del contagio disposte dalla legge.

Condividi
Location
Orazio Borgianni, un genio inquieto nella Roma di Caravaggio, Via delle Quattro Fontane, 13
Via delle Quattro Fontane, 13
41° 54' 11.34" N, 12° 29' 24.1728" E