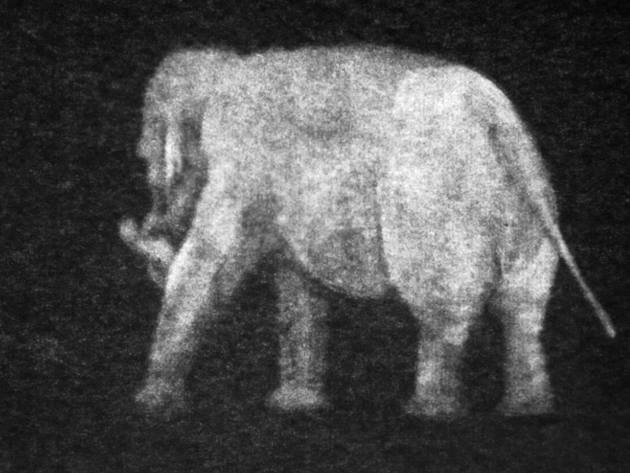 Fondazione Pastificio Cerere - at the Spazio Molini - hosts There Is an Elephant in the Room, a solo exhibition by Marta Roberti, curated by Manuela Pacella, accompanied by a text by the philosopher Felice Cimatti.
The exhibition takes its title from a typical English expression, used to indicate an obvious problem or truth deliberately ignored. The project stems from the observation of certain behaviours - repetitive gestures or contemplative poses - characteristic of animals in zoos, which seem to move only to breathe for long minutes. As the artist says, "nothing happens, nothing can happen, and the repetition of inconsistent and aimless practices seems like a way to mark a basic rhythm in the desert of the eternal present in which nothing can begin or end".
The animal world, from peacock to elephant, vibrates with an underground and luminous life in a symbolic journey through the drawing, mostly on carbon paper, which Marta Roberti prefers and declines in installations and video animations, such as the one that gives the title at the exhibition. Spazio Molini itself, obtained from the recovery of the ancient mill of Pastificio Cerere, so full of industrial history and the remains of war bombings, conveys broader and more existential questions.
For several years, Roberti has been exploring the relationship between East and West, specifically how the Western forms its identity from what it feels being different: from animals to nature, to everything that's considered different or "exotic".
Her work took part in numerous exhibitions and festivals, including Visions in the Making (Italian Institute of Culture New Delhi - 2020); Wall Eyes (Keynes Art Mile, Johannesburg and AuditoriumArte, Rome - 2019); Something Else (Biennal Off Cairo - 2018); Portrait Portrait (Taipei Contemporary Art Center - 2016); Scarabocchio (Kuandu Museum of Art Taipei - 2014); Regeneration (MACRO, Rome - 2012).
The exhibition is realised thanks to the support of the Office Project Room in Milan. Admission exclusively by booking on www.pastificiocerere.it
Photo: Marta Roberti, There is an elephant in the room, 2013, frame from the video and drawing on copy paper, 15x20 cm
Informations
When
from 20 October 2020
to 30 November 2020
POINT (12.516192 41.899177)
Contacts
Email:
info@pastificiocerere.it
Facebook:
https://www.facebook.com/FondazionePastificioCerere
Telephone:
+39 06 45422960
Web site:
https://www.pastificiocerere.it/mostre-attivita/marta-roberti-there-is-an-elephant-in-the-room/
Timetables
Sospesa in attuazione delle misure di contenimento anti Covid-19
------------------------------------------------------------------------------------------------------------
Dal 20 ottobre al 30 novembre 2020
dal lunedì al sabato ore 15.00 – 19.00
inaugurazione martedì 20 ottobre dalle 16.00 alle 21.00

Condividi
Location
Marta Roberti - There Is an Elephant in the Room, Via degli Ausoni, 7
41° 53' 57.0372" N, 12° 30' 58.2912" E