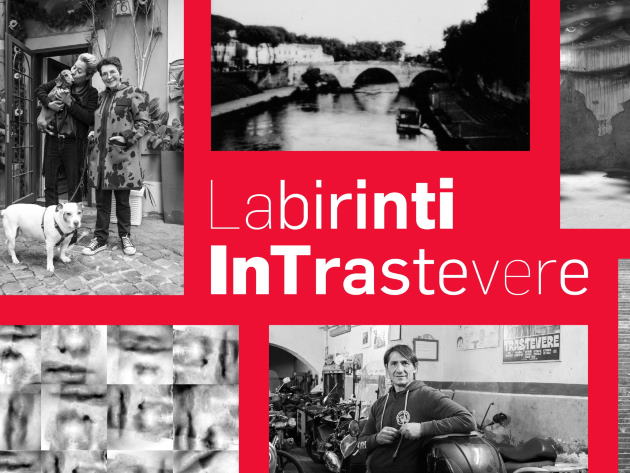 The RUFA Academy of Fine Arts celebrates the tenth anniversary of its photography school and the first year of the new audiovisual school with a project created by former graduate students and first year students. The title of the exhibition alludes to an imaginary labyrinthine Trastevere stratified by history and languages, an unexplored space to cross as nomads, on a journey between reality and imagination in search of a perfect moment.
In this experiential journey within the 13th Rione of the city, photographs and moving images catalyze attention, transfer emotions, feelings, atmospheres and thoughts to the observer. The huge amount of images to which we are subjected daily causes a sort of symbolic blindness, so we often look without seeing and above all without remembering. The exhibition intends to dwell on the sense of contemplation of images as an antidote to the acceleration of existence dictated by the labyrinthine digital network: to start looking again, restoring value to time and reflection, taking a break following the rhythms of Trastevere.
The project includes a series of projections focusing on audiovisual media.
Exhibiting artistis
Sala Daguerre: Ginevra Brizioli, Anna Di Paola, Marta Ferro, Maria Vittoria Pecchioli, Benedetta Pionati, Claudia Rolando, Francesca Salvati.
Sala Lumiere: Leonardo Amorosi, Matteo Bonanni, Alice Brignone, Gabriella Carbone, Claudia Coppola, Agnese De Luca, Federica De Salvatore, Armando Egidi, Andrea Ferretti, Lorenzo Finardi, Alessandra Florea, Carolina Iaccarino, Sabina Ismayilova, Eleonora Marinanza, Emanuele Mazzone, Ayla Mueller, Mirko Pizzichini, Chiara Preti, Serena Radicioli, Guido Leon Salerno, Nicole Scilipoti, Lorenzo Teodosi, Tommaso Termine, Federica Troiani.
Informations
When
from 16 November 2021
to 13 March 2022
POINT (12.4689868 41.8900398)
Contacts
Web site:
www.museodiromaintrastevere.it/mostra-evento/labirinti-trastevere
Timetables
Dal 16 novembre 2021 al 13 marzo 2022
dal martedì alla domenica ore 10.00-20.00 
Ultimo ingresso un'ora prima della chiusura
Giorni di chiusura
Lunedì, 25 dicembre, 1 gennaio
CONSULTA SEMPRE LA PAGINA AVVISI prima di programmare la tua visita al museo

Condividi
Location
Labirinti InTrastevere, Piazza di Sant'Egidio, 1/b
Piazza di Sant'Egidio, 1/b
41° 53' 24.144" N, 12° 28' 8.3532" E