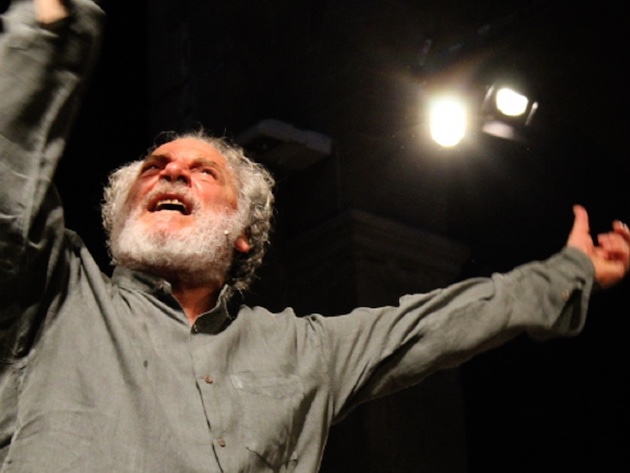 Giorgio Colangeli undertakes a truly amazing and demanding enterprise: that of Dante's Divine Comedy learned by heart. In fact, the actor, among the very few to have learned the entire Comedy, tries to restore the poet's monumental work to the public in its entirety, thus rediscovering the collective rite of an orality lost in our society.
In fact, once upon a time, Dante's triplets, like most of the poetic works, were the oral heritage of every class of the population which contributed to making them alive and an integral part of the culture of our country.
The great actor, known above all for his ability to involve spectators in the stage action, manages to give us the verses of Dante's poem like a sound, a flow to indulge in, transporting us on a long journey through the memory of lost things, through poetry.
The show, which also makes use of the musical contributions of Tommaso Cuneo on guitar and Vincenzo Di Sanzo on zampogna, is made by the Teatro Argentina with the contribution and collaboration of the National Committee for the celebrations of the 700th anniversary of Dante Alighieri's death.
Photo credits: courtesy of Teatro di Roma official site
Informations
When
from 15 November 2021
to 29 November 2021
POINT (12.476362 41.895619)
Contacts
Facebook:
www.facebook.com/teatroargentinaroma
Web site:
www.teatrodiroma.net/doc/7333/l-impresa-fantastica-dell-attore-colangeli
Timetables
dal 15 al 29 novembre 2021
Lunedì 15 novembre - ore 19.00
INFERNO - I parte - Canti I - XIII
durata 2 ore e 15'
Domenica 21 novembre - ore 21.00
INFERNO - II parte - Canti XIV - XX
durata 1 ora e 15'
Lunedì 22 novembre - ore 19.00
INFERNO - III parte - Canti XXI - XXXIV
durata 2 ore e 30'
Domenica 28 novembre -  ore 21.00
PURGATORIO - I parte Canti I - IX
durata 1 ora e 30'
Lunedì 29 novembre - ore 19.00
PURGATORIO - II parte Canti X - XXIV
durata 2 ore e 30'
La programmazione potrebbe subire modifiche.

Condividi
Location
L'impresa fantastica dell'attore Colangeli. Appuntamenti di novembre, Largo di Torre Argentina, 52
Largo di Torre Argentina, 52
41° 53' 44.2284" N, 12° 28' 34.9032" E