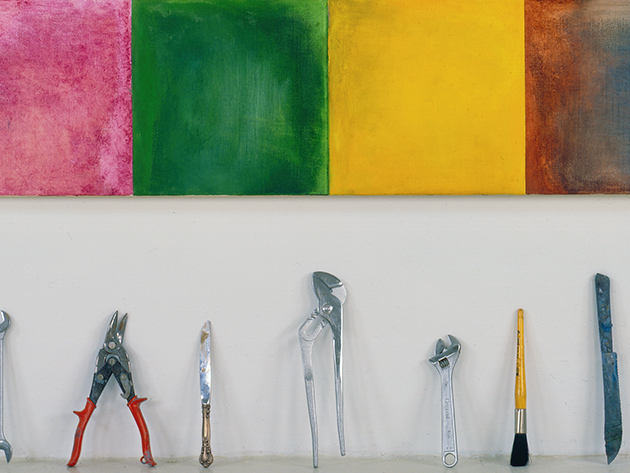 An important exhibition dedicated to Jim Dine (Cincinnati, 1935), one of the greatest exponents of American Pop Art and Performance Art, opens at Palazzo delle Esposizioni.
The exhibit is articulated on a long, chronological span from the end of the 1950s to the 2000s. A substantial nucleus is also constituted by the collection that the artist has given to the National Museum of Modern Art Center George Pompidou.
"I grew up with tools. I came from a family of people who sold tools, and I was always enchanted by these objects made by anonymous hands "; with these words the American artist and poet describes his work characterized, since the 1960s, by canvases on which he puts tools, clothes, or other objects of everyday use with an autobiographical meaning. 
In addition to these works, we can find the photographic material of his artistic Happenings from the 1960s, up to the present day with prints, paintings, sculptures including those dedicated to the figure of Pinocchio, the famous puppet of Collodi's fairy tale.
Informazioni
Quando
from 11 February 2020
to 26 July 2020
POINT (12.490471 41.898935)
POINT (12.489286 41.899826)
POINT (12.489504 41.8995108)
POINT (12.489504 41.8995108)
Contatti
Online purchase:
https://bit.ly/37kahPd
Web site:
www.palazzoesposizioni.it/mostra/jim-dine
Orari
The exhibition will reopen to the public Tuesday May 19 2020.
On line reservations required.
Sunday, Tuesday, Wednesday and Thursday from 10.00 to 20.00
Friday and Saturday from 10.00 to 22.30
Monday closed
Admission is allowed up to one hour before closing

Condividi
Locations
Jim Dine, Via Nazionale, 194
41° 53' 56.166" N, 12° 29' 25.6956" E
Jim Dine, Via Piacenza, snc
41° 53' 59.3736" N, 12° 29' 21.4296" E
Jim Dine, Via Milano, 13
41° 53' 58.2396" N, 12° 29' 22.2144" E
Jim Dine, Via Milano, 9A
41° 53' 58.2396" N, 12° 29' 22.2144" E