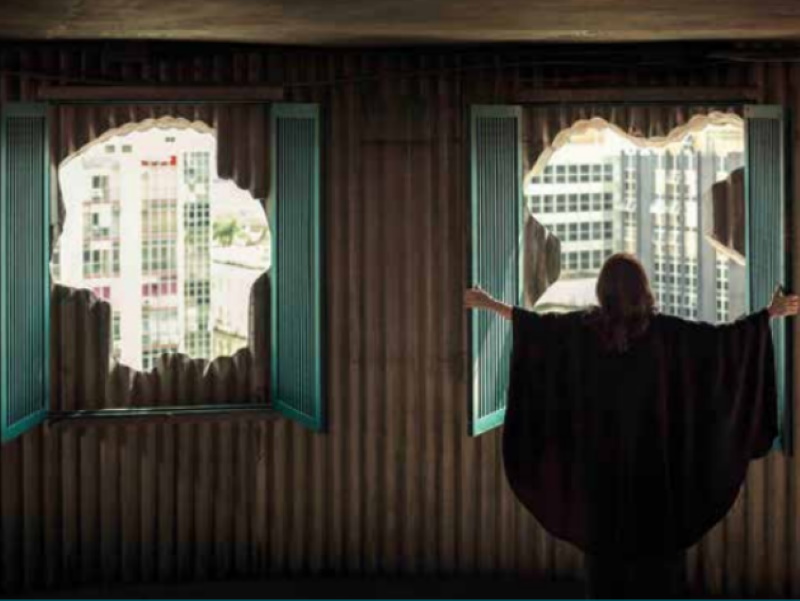 With Lina Bo Bardi – A Marvellous Entanglement, visual artist and filmmaker Isaac Julien (London, 1960) pays homage to a major 20th century architect who developed her innovative, unconventional form of expression following her post-WW2 emigration to Brazil from Italy.
Julien's work traces an itinerary through the architect's Brazilian projects from the 1960s to the 1980s. Bo Bardi herself accompanies us on this journey, performed by Brazilian actresses Fernanda Montenegro and Fernanda Torres, mother and daughter in real life, who in the film become the mature and the younger version of the architect.
Julien has conceived installation as a total work of art, from the curtains to the seats, visitors can immerse themselves in scenes from Bo Bardi's life, projected across nine screens. With both actresses simultaneously present in some of the scenes, both the supposed linearity of the biographical journey and the boundary between fiction and reality are poetically questioned.
Threading through the work is a conversation between the director and the architect: the words articulated by the actresses, taken from Bo Bardi's writings, are derived from Julien's research. Since the late 1980s, Julien has been interested in the intertwining of languages, in particular that between the visual arts, cinema and the museum.
The second part of the gallery presents the artist's latest production of site-specific works. Premiered here is a series of large-scale photographic collages which utilise superimposed layers of coloured cut-outs. They are a subtle tribute to the visual montage of filmmaking.
Following the ramp, in the glass corridor, the third part of the exhibition is an examination of the relationship between the artist's work and that of Bo Bardi and an in-depth presentation of the stages of the film's research and production.
The fourth and final part of the exhibition is an archival display with a focus on Bo Bardi, as an architect, with a selection of original copies of the magazines that testify to the versatility and topicality of her architectural projects. These have made her both the subject and the muse of Julien's work, creating an elective affinity, not affected by chronological distance, because, as Bo Bardi writes, "time is not linear, it is a marvellous entanglement in which, at any moment, one can choose points and invent solutions, without a beginning or an end".
Isaac Julien, born in London in 1960, is a filmmaker and visual artist who has innovated the cinematic scene of recent decades, exploring the field of audiovisual installations since the late 1990s. Thanks to his meticulous attention to formal aspects and an extraordinary storytelling ability, he tackles delicate social issues, paving the way for an experimentalism that transcends the boundaries among the various artistic disciplines.
Informations
When
from 24 September 2020
to 17 January 2021
POINT (12.4652138 41.9277884)
Contacts
Online purchase:
http://www.vivaticket.com/
Web site:
https://www.maxxi.art/events/isaac-julien-lina-bo-bardi-a-marvellous-entanglement/
Timetables
Temporaneamente sospesa in attuazione delle misure di contenimento anti Covid-19
------------------------------------------------------------------------------------------------------------
Dal 24 settembre 2020 al 17 gennaio 2021
Martedì 11.00 – 19.00
Mercoledì 11.00 – 19.00
Giovedì 11.00 – 19.00
Venerdì 11.00 – 22.00
Sabato 11.00 – 19.00
Domenica 11.00 – 19.00
La biglietteria è aperta fino a un'ora prima della chiusura del Museo
Chiusura tutti i lunedì, 1° maggio e 25 dicembre

Condividi
Location
Isaac Julien. Lina Bo Bardi. A Marvellous Entanglement, Via Guido Reni, 4 A
41° 55' 40.0368" N, 12° 27' 54.7704" E