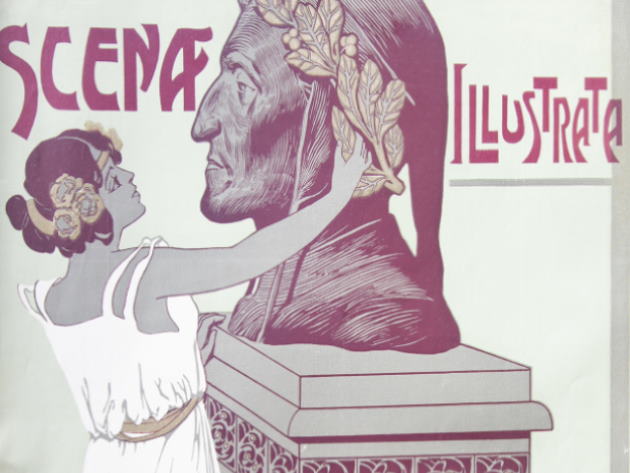 Exploring the taste and aesthetics that characterized the celebrations of the centenaries of Leonardo, Raphael and Dante between 1919 and 1921, when Italy was just out of the Great War and needed to rebuild its national identity, seeing in the legacy of the great masters of the past a precious resource to look to the future. The celebrations thus inspired the artists of the new generations, paving the way for new styles and trends and reaching the entire population through postcards, objects, magazine and newspaper covers.
The exhibition is divided into three sections on the first floor of Villa Farnesina. The first section is dedicated to the fourth centenary of Leonardo's death who, with his inventions and studies on the human body, symbolized the renewed confidence in technology and the desire for change. Leonardo's flying machines thus provided the inspiration for the Aeropainting of Futurism art movement while the equestrian monuments were used to illustrate the scenes of the Great War. The second section shows the mainstream popularity gained by Raphael, protagonist with his creations of Liebig postcards, newspaper covers and articles about his loves, advertisements for cigarettes or products for children. At the same time, in those years many artists began to re-establish their own aesthetics by taking up Renaissance art, as shown for example by the works by De Chirico, Severini, Achille Funi and Mario Sironi.
The third section illustrates through book and magazine covers, but also works and drawings by contemporary artists such as Adolfo Wildt or Carlo Carrà, how Dante was celebrated in 1921 as an emblem of Italian identity. The series of postcards designed by Ezio Anichini and Virgilio Faini in view of Dante's centenary are among the examples of how the aesthetic message linked to the celebrations reached every home. A separate section, in the Massari Room, is dedicated to the recovery of ancient Roman and Renaissance models by the modern architecture of the 1920s, as well as by Mario Sironi's projects for "Urban suburbs". Also on display are the drawings for the magazines designed by Fortunato Depero, Gino Severini and Marcello Nizzoli, authentic proto-designers who foreshadow the "made in Italy" way developed in the 1950s and 1960s in graphics.
Informations
When
from 16 June 2021
to 13 January 2022
POINT (12.466812 41.893445)
Contacts
Web site:
www.villafarnesina.it
Timetables
Dal 16 giugno 2021 al 13 gennaio 2022
Dal lunedì al sabato dalle ore 9.00 alle 14.00 (ultimo ingresso ore 13.40)
e la seconda domenica del mese (dalle ore 9.00 alle 17.00 (ultimo ingresso ore 16.40)

Condividi
Location
Il Trittico del Centenario, Via della Lungara, 230
41° 53' 36.402" N, 12° 28' 0.5232" E