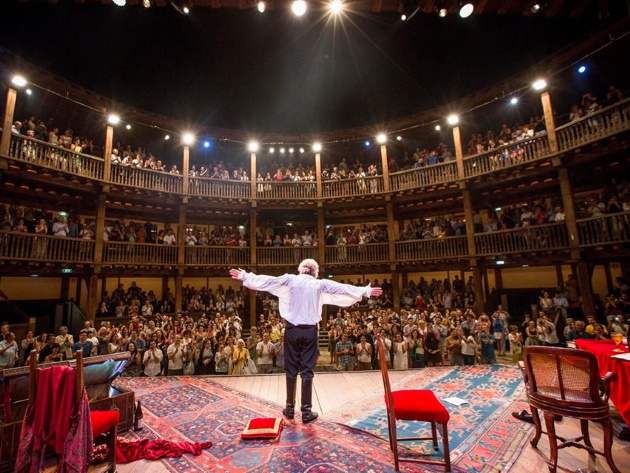 The magic of Shakespearean theater is in the heart of Villa Borghese.
For the 17th consecutive year, the doors of the Silvano Toti Globe Theater reopens. The only Elizabethan theater in Italy was born in 2003 thanks to the commitment of Roma Capitale and the Silvano Toti Foundation, from a brilliant intuition of Gigi Proietti, under whose artistic direction the theater has collected an increasing success, reaching about 61,026 spectators in 2019.
The goal is to meet and share an appointment that has become the custom of the summer in Rome, to offer a series of shows consistent with the programming that has distinguished the theater, without neglecting one look at training and teaching.
The big news this year, in fact, is the collaboration with a natural partner for location and excellence, the National Academy of Dramatic Art "Silvio d'Amico.". To offer young actors the opportunity and the emotion to debut in the profession, on a large and real stage, the Globe hosts a new version of The Two Gentlemen of Verona with the music by Oscar winner Nicola Piovani, the original translation by Vincenzo Cerami, and the direction by Andrea Baracco.
The rich programming of this year also includes joyful and aggregating meetings dedicated to children and families under the sign of Shakespeare.
Many debuts, hospitality, musical surprises are on the bill under the sky of Villa Borghese.
Informations
When
from 29 July 2020
to 11 October 2020
POINT (12.485305 41.914503)
Contacts
Facebook:
http://www.facebook.com/SilvanoTotiGlobetheatreRoma/
Online purchase:
www.ticketone.it/
Web site:
www.globetheatreroma.com/
Timetables
Dal 29 luglio al 11 ottobre 2020
Spettacoli pomeridiani ore 18.00
Spettacoli serali ore 21.00 o 21.15
Il sabato e la domenica mattina spettacoli per bambini ore 11.00
Programma
Dal 29 luglio al 2 agosto ore 21.15
VENERE E ADONE
Dal 6 al 23 agosto, ore 21.15  (da giovedì a domenica)
SOGNO DI UNA NOTTE DI MEZZA ESTATE
 
11, 12 agosto ore 21.15
CANZONI
18, 19 agosto ore 21.15
15,16, 22 settembre ore 21.15
LE OPERE COMPLETE DI SHAKESPEARE IN 90 MINUTI
Dal 27 al 30 agosto 21.15
Studio da
I DUE GENTILUOMINI DI VERONA
Dal 2 al 6 settembre, ore 21.00
SHAKESPEA RE DI NAPOLI
11 ,17, 18, 23, 24, 25 settembre ore 21.00
12, 13, 19, 20, 26, 27 settembre ore 18.00
3, 4, 10, 11 ottobre ore 18.00
"LA DODICESIMA NOTTE"
Regia Loredana Scaramella
7 settembre ore 21.00
"MURMAT SHORT FILM FESTIVAL"
1, 2, 22, 23 agosto ore 11.00
5, 6, 19, 20 settembre ore 11.00
3, 4, 10, 11 Ottobre ore 11.00
RICCARDINO TERZO
8, 9, 29, 30 agosto ore 11.00 
12, 13, 26, 27 settembre ore 11.00
LE TRE STREGHE DI MACBETH
dal 29 settembre al 1 ottobre ore 21:00
#LOSTUPRODILUCREZIA
Al Globe con mamma e papà
Il sabato e la domenica mattina spettacoli per bambini in compagnia di Shakespeare.

Condividi
Location
Globe Theatre - Stagione 2020, Largo Aqua Felix
41° 54' 52.2108" N, 12° 29' 7.098" E