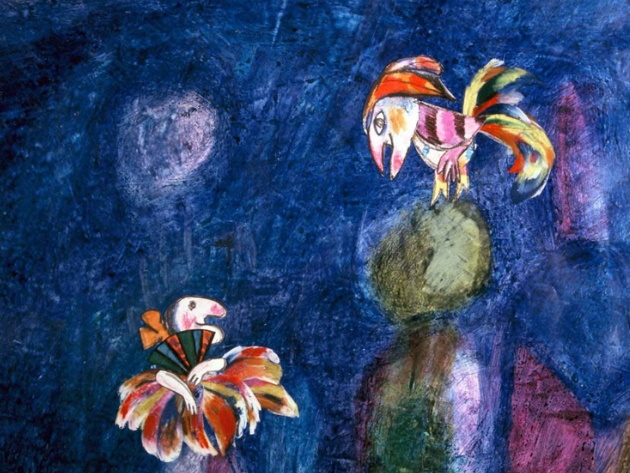 One hundred years after his birth, Cinecittà pays tribute to Emanuele Luzzati, one of the greats of Italian animation, with screenings, workshops, and an exhibition.
An artist and a set designer, Luzzati was born in Genoa in 1921. In the mid-1950s, together with Giulio Gianini, director, set designer, and director of photography, he created several masterpieces in the history of Italian animation cinema.
The permanent exhibition that allows you to visit the iconic Studios, Cinecittà si Mostra, dedicates to Luzzati the 4th edition of Animazioni d'autore, the review of great cartoon titles.
The exhibit, hosted inside Sala Fellini, retraces the film production realized over the years by Luzzati and Gianini with projections of the famous animated fairy tales: Il flauto magico, L'uccello di fuoco, La gazza ladra, Castello di carte, Augellin Belverde e Pulcinella and Il pesce magico. The didactic laboratories are designed to introduce children to the language of animation and to the artistic techniques that characterize moving images. Set up inside the Cinebimbicittà space, the workshops are an inviting introduction to enter the universe of Luzzati and Gianini and discover their phantasmagorical worlds.
Along with the exhibition, you can attend the screening of the documentary Lele - il magico mondo di Emanuele Luzzati (Lele - the magical world of Emanuele Luzzati). With the vernissage of Gianini - Luzzati Cinema d'animazione, Cinecittà also inaugurates its new workshop space that joins the activities of Cinebimbicittà.
Workshops booking is mandatory within the day before the activity in question: didattica@cinecittaluce.it
The workshops are always at 3:00 pm at the Cinebimbicittà workshop space (access permitted only to children) - Duration 90 min.
The screenings in the Sala Fellini are from 10 am to 6 pm on a continuous cycle.
The program may be subject to variations.
Informations
When
from 27 December 2021
to 28 February 2022
POINT (12.574375 41.849441)
Contacts
Online reservation:
didattica@cinecittaluce.it
Web site:
https://cinecittasimostra.it - www.museomiac.it
Timetables
Dal 27 dicembre 2021 al 28 febbraio 2022 MOSTRA GIANINI E LUZZATI
Dal 27 dicembre 2021 al 9 gennaio 2022 LABORATORI (prenotazione obbligatoria) E PROIEZIONI ore 15.00

Condividi
Location
Gianini – Luzzati Cinema d'animazione, Via Tuscolana, 1055
41° 50' 57.9876" N, 12° 34' 27.75" E