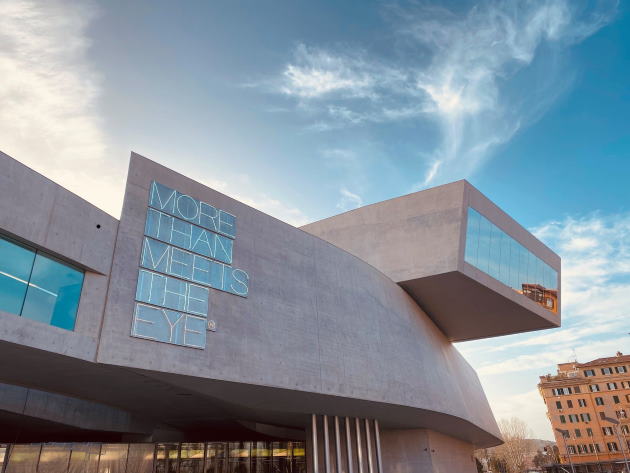 In full compliance with health and safety rules, Summer at MAXXI - Estate al MAXXI is back in the MAXXI square with a summer program of art, music, literature, architecture, cinema, theatre, two large open-air installations and the exhibitions inside the museum. 
Many appointments with art, books and architecture scheduled. On the program, numerous meetings with the authors, such as the Spanish Javier Cercas (15 September), the meditation expert Daniel Lumera and the scientist Immaculata De Vivo (16 September), Emanuele Trevi (17 September), the winner of the Premio Strega 2020 Sandro Veronesi (29 September), Donatella Di Cesare (30 September), Michele Masneri (6 October), the philosopher Luciano Floridi (7 October) and Francesco Costa (13 October).
Large space to theatre, music and cinema with contemporary performances, avant-garde and artistic comingling: Friday 11 September, the appointment with Appunti per un futuro presente; Tuesday 15 September, Film screening and Talk by Sasha Waltz & Guest. Dialoge 9, the film that relives the opening of MAXXI after 10 years; Neapolitan classics and musical contaminations from the world staged on 16 September with the music of Il Viaggio di NeaCò. A tale in concert form and the "ecological" performance of the collective OHT | Office for a Human Theater, on 3 and 4 October.
YAP - Young Architects Program, in partnership with MoMA, is back as well: the installation Home Sweet Home, the house with open-air rooms designed by Lucy Styles, winner of this eighth edition, will also host the stage dedicated to summer events. Finally, After Love, the large impossible house of the Vedovamazzei duo, will also be open to the public in the square.
Informations
When
from 1 July 2020
to 14 October 2020
POINT (12.4652138 41.9277884)
Contacts
Web site:
https://www.maxxi.art/events/categories/eventi/
Timetables
Da mercoledì 1 a giovedì 30 luglio 2020
Da giovedì 10 settembre a mercoledì 14 ottobre 2020

Condividi
Location
Estate al Maxxi 2020, Via Guido Reni, 4 A
41° 55' 40.0368" N, 12° 27' 54.7704" E