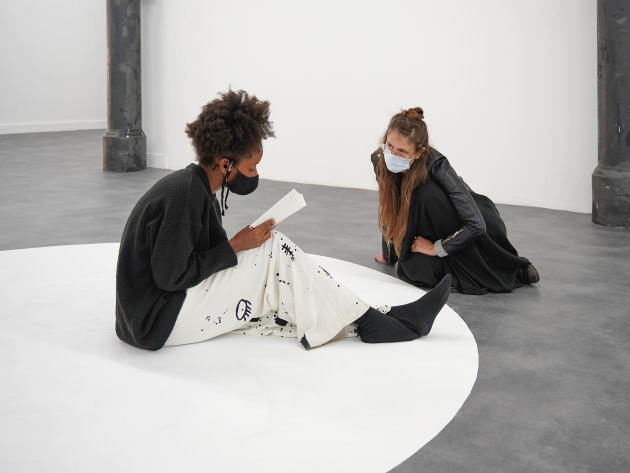 Dora García's project is the fourth chapter in the three-year "Sensitive Devices" program devised by Angel Moya Garcia for Rome's Mattatoio, focusing on the convergences of visual and performance arts.
The project's title derives from the short story Tlön, Uqbar, Orbis Tertius by J.L. Borges, which is a glaring example of how fiction is able to insinuate itself into human consciousness. Social conventions, identities, history, indeed any fact which we consider objective is in reality arranged by the weaving of the imagination. The stories of the Spanish-born artist, characterized by a summary script and an open ending, probe the impact of language, literature, translation and the subconscious on social constructions and identities. They revolve around the ongoing negotiation between speaker and listener while at the same time forging an ambivalence between fiction and spontaneous event, analyzing the sense of the border between reality and representation.
The project focuses on the notions of event, duration and repetition with a binary setting developed in Pavilions 9A and 9B at the Mattatoio di Roma that whisks us off into a mysterious and fascinating dimension. Pavilion 9A will be occupied by the screening of the film Segunda Vez in which Dora García intertwines politics, psychoanalysis and performance. Pavilion 9B, on the other hand, will be engaged by a number of delegated performances: a series of drawings on the floor articolate the sequences, determine the place where the performances take place and define their own space.
Informations
When
from 7 October 2021
to 9 January 2022
POINT (12.4737224 41.8760422)
Contacts
Web site:
www.mattatoioroma.it/mostra/dora-garcia-conosco-un-labirinto-che-e-una-linea-retta
Timetables
Tuesday to Sunday from 11.00 am to 8.00 pm
Secunda Vez, Schedule: 11 am - 12:30 pm - 2 pm - 3:30 pm - 5 pm - 6:30 pm
Performances, Schedule: Tuesday to Friday from 5 pm to 8 pm "Two Planets Have Been Colliding for Thousands of Years" and "The Labyrinth of Female Freedom"; Saturday and Sunday from 11 am to 1 pm "The Sinthome Score"; from 3 pm to 8 pm "Two Planets Have Been Colliding for Thousands of Years", "The Labyrinth of Female Freedom" and – alternating – "The Sphinx", "The Messenger" or "Little object 'a'"

Condividi
Location
Dora García - Conosco un labirinto che è una linea retta, Piazza Orazio Giustiniani, 4
Piazza Orazio Giustiniani, 4
41° 52' 33.7512" N, 12° 28' 25.3992" E