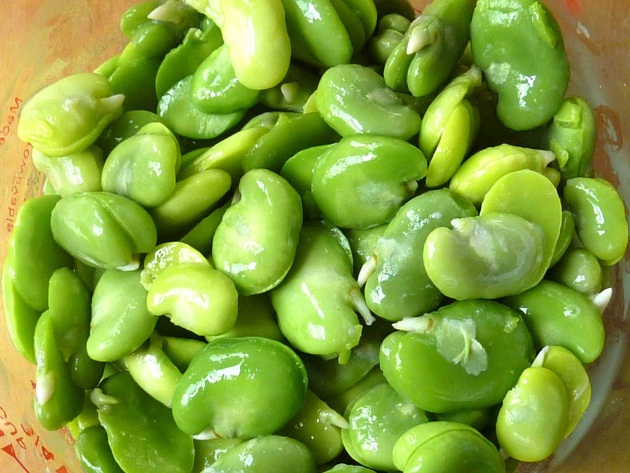 The first day of the month of May has always been a feast day for Romans and an occasion to leave the city behind and enjoy a day out in the countryside, "for de porta" (outside the city gates).   Historically, the May day feast took place on the field at Testaccio, in the great squares of Rome and in a number of streets. The events once included dances, games and amusements which often ended up with brawls and, occasionally, even knife fights. Among the various games, a particular favourite was ruzzica. The ruzzica was a heavy wooden wheel which was hurled as far as possible, along a set route, occasionally of a length of kilometres. As we can well imagine, ruzzica required training and practice. The wheel was sometimes replaced by a large piece of cheese which the winner was allowed to keep.
May Day is still a time to be spent in the countryside with friends, seated around a table and in front of a dish of fave or broad beans. The broad beans must be of the Roman variety, fresh, tasty, and of a medium size. A fine glass of wine will go down well as an accompaniment, along with a slice of traditional country-style bread and some genuine pecorino romano sheep's milk cheese.   For the cooks among our readers, we recommend an old recipe which is both flavoursome and simple. Remember! The fave must be of the Roman type – and very fresh and crisp!
The recipe: Roman broad beans with pig's jowls
Ingredients (for 6 people):
•    600 g spaghetti
•    300 g Roman broad beans
•    150 g pig's jowls
•    1 onion
•    80 g lard
•    Salt and black pepper – we recommend the pepper, Pepe di Rimbàs, from Malaysia (Presidio Internazionale Slow Food)
Directions
In a pan, fry the onion and pig's jowls (in fairly large pieces) with the lard. Add the broad beans, flavoured with salt and pepper. Add a few spoonfuls of cold water. Cook over a high flame. Serve in a hot vegetable dish.