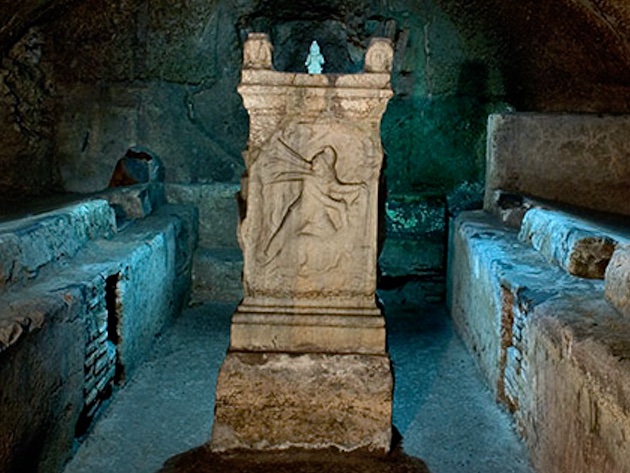 The archaeological complex known as the Mitreo di Saint Clemente is located below the Basilica of the same name located in the valley that separates the Celio from the Esquiline Hill.
The structures identified belong to two different buildings: the first consists of a large domus of at least two floors built between the end of the 1st and the beginning of the 2nd century AD. Later, between the end of the 2nd and the beginning of the 3rd century, the central room of this house was transformed into a mithraeum: the doors facing it were closed and a barrel vault was built with a ceiling decorated with stars, which he alluded to the symbolism of Mithraism.
In the central hall of the sanctuary, on the side walls there are two long benches where the believers sat. At the back, in a niche, the altar was placed with the depiction of the Tauroctonia, that is, the god Mithras sacrificing the bull and on the sides the two torch-bearers, Cautes and Cautopates. This place of worship was abandoned at the end of the 4th century and the whole complex was buried.
To the east of the mithraeum, at a lower level, is the second building. The complex probably served as a warehouse or, according to some inscriptions found in the area, as a mint for the manufacture of imperial coins. Towards the middle of the third century the first floor of the building was demolished and replaced with a new building to be identified with the Titulus of Clement mentioned in the sources, seat of the first Christian community in the area. During the fourth century this building was partially demolished to build the early Christian church still visible below the current one.
Photo: Courtesy of Basilica of Saint Clemente official site
You may also be interested in
The Basilica of Santa Maria Maggiore
Condividi
The Basilica of Saint Praxedes
Condividi
Basilica Santa Pudenziana at the Viminale
Condividi
Information
Address
POINT (12.497388 41.889124)
Contacts
Email:
segreteria@basilicasanclemente.com
Facebook:
www.facebook.com/SanClemente
Twitter:
https://twitter.com/SanClementeRoma
Web site:
www.basilicasanclemente.com/ita
Condividi
Location
Mitreo di San Clemente, Via San Giovanni in Laterano, 108
Via San Giovanni in Laterano, 108
41° 53' 20.8464" N, 12° 29' 50.5968" E
To find out about all accessibility services, visit the Rome accessible section.