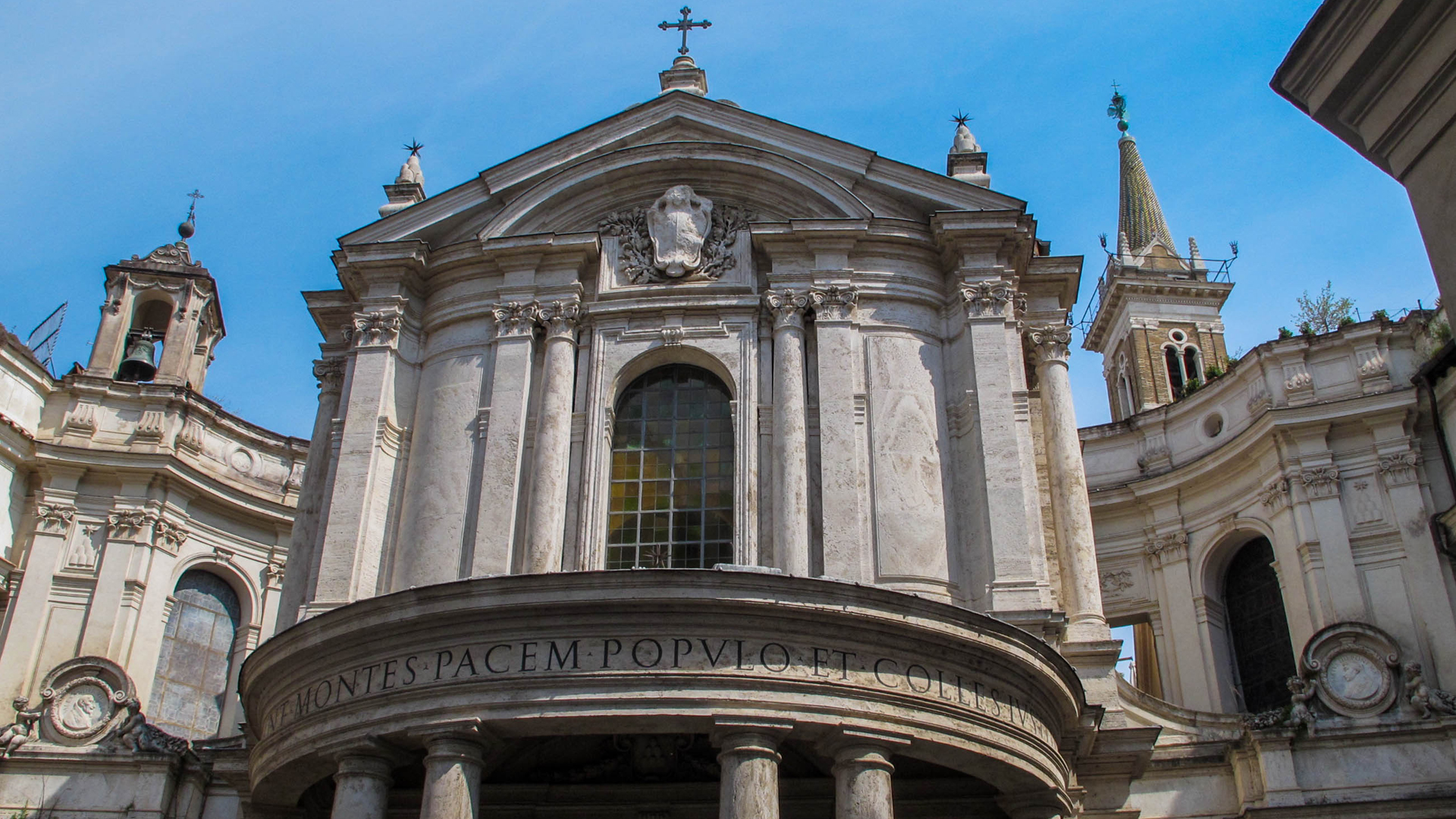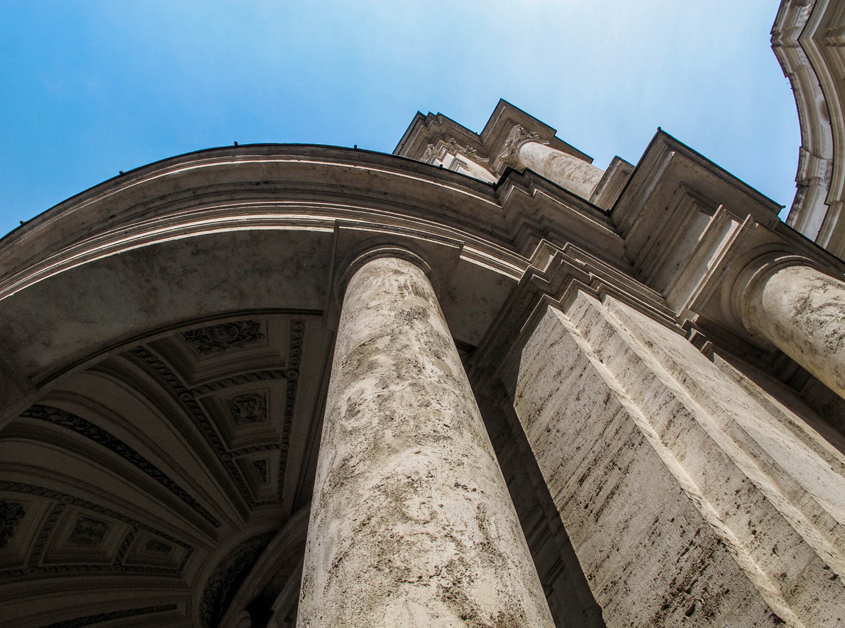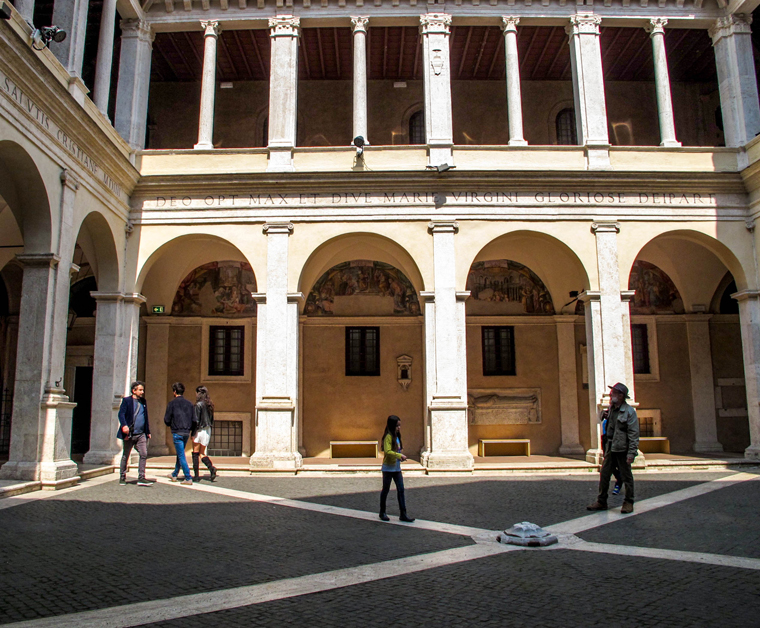 In a semi-hidden corner a few steps from Piazza Navona, you can see one of the Renaissance and Baroque jewels of Rome: the Church of Santa Maria della Pace.
It stands where in ancient times was the Church of Sant'Andrea de Acquarenariis which took its name from the water vendors who, after drawing water from the Tiber, purged it from the sand.
According to legend, in 1480, the image of the Virgin under the porch began to bleed, after being hit by a stone thrown by a drunk soldier. Pope Sixtus IV renamed it Santa Maria della Virtù.
The church was later called Santa Maria della Pace to commemorate the end of the war between the Papal States, Venice, and the Kingdom of Naples.
The project for a new church was entrusted to the architect Baccio Pontelli, while, in the early 1500s, Bramante built the annexed cloister and convent. The dome was added only in 1524 to a design by Antonio da Sangallo the Younger and is adorned with stuccos by Pietro da Cortona and paintings by Baldassarre Peruzzi and Carlo Maratta.
In 1656, Pietro da Cortona created the original convex facade commissioned by Alexander VII Chigi. Pairs of columns support a semicircular portico on which sides there are pillars with columns decorated with putti.
After crossing the ancient 15th-century portal, you enter this church with a single nave and side chapels.
Among these, we mention the beautiful Chigi Chapel commissioned by Agostino Chigi to Pietro da Cortona. The drawing is by Raphael, who also conceived and created the fresco above the arch of the chapel depicting Sibyls and Angels and the four Prophets in the lunette, completed by his pupil Timoteo Viti, after his death.
Also worth mentioning is the Cesi Chapel by Antonio da Sangallo the Younger, and the Mignanelli Chapel, decorated with the splendid marbles from the Temple of Jupiter Ottimo Massimo. The Ponzetti Chapel and the Olgiati Chapel, on the other hand, are adorned with frescoes by Baldassarre Peruzzi and Orazio Gentileschi. The Cesi Chapel, instead, was designed by Michelangelo.
In 1614, Carlo Maderno designed the altar to frame the painting of the Madonna and Child.
One of the most characteristic elements of the church is the so-called Cloisters of Bramante, one of the most important works of the Renaissance and one of the artist's first Roman works, after his stay in Milan.
Today, the Cloister hosts exhibitions and events of international importance.
You may also be interested in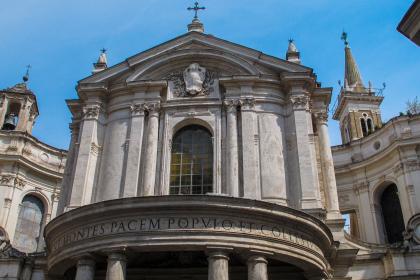 Condividi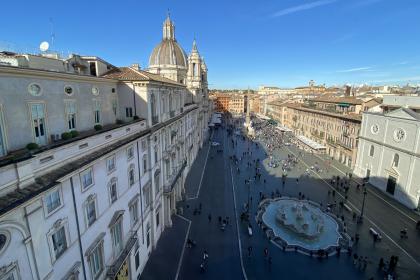 Condividi
The most iconic square of Baroque Rome
Museo di Roma – Palazzo Braschi
Condividi
Information
Address
POINT (12.471313 41.900232)
Timetables
For the timetable of the masses and visiting conditions, please consult the contacts.
Condividi
Location
Église de Santa Maria della Pace, Arco della Pace, 5
41° 54' 0.8352" N, 12° 28' 16.7268" E
To find out about all accessibility services, visit the Rome accessible section.