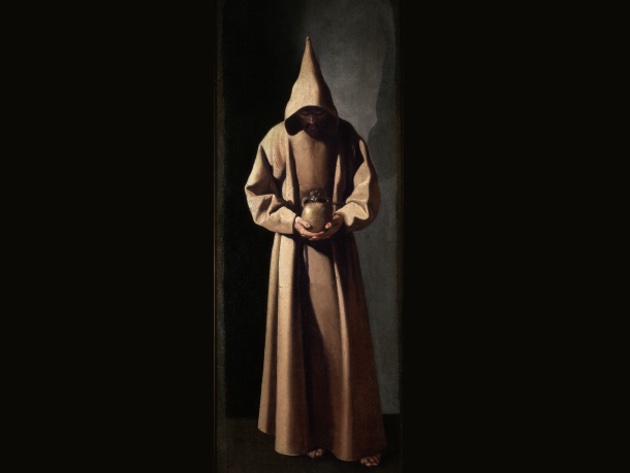 The San Francesco contempla un teschio (San Francesco contemplating a skull) by the Spanish master Francisco de Zurbarán (1598-1664), one of the greatest representatives, together with Diego Velázquez and Bartolomé Esteban Murillo, of the Spanish art period "Siglo de Oro", is on display inside the Sala Santa Petronilla of the Capitoline Museums, among the canvases of Caravaggio and Velázquez.
The work, for the first time in Rome thanks to a loan from the Saint Louis Art Museum, represents a special opportunity to know one of the most extraordinary paintings of the mystical formalism of the great Spanish artist and to discover his peculiar pictorial language, which was fully understood by the French painters of the nineteenth century and recognized by critics only starting from the 1920s.
The San Francesco was part of an altarpiece (retable) preserved in the Carmelite church of the college of Sant'Alberto in Seville, and despite its fairly small size, it is one of the most interesting depictions of the Saint of Assisi. Painted several times over the years by Zurbaràn, Saint Francis is depicted standing, wearing the habit of the Capuchin friars, while contemplating a skull that he holds in his hands. The severe and imposing appearance of the composition is accentuated by the geometric rigor, the verticality of the hood and the folds of the dress that fall straight to the ground, leaving only the tips of the bare toes uncovered. The figure appears immersed in a mystical dimension that transcends the perception of the beholder and makes it an image of intense spirituality. The silent dialogue between the saint and the skull alludes to the precariousness of human existence, a very recurring theme in Spanish Baroque art and in that of the Counter-Reformation in general.
The choice of setting up the work in the Sala Santa Petronilla ideally places it in dialogue both with the two canvases by Caravaggio - the Buona Ventura and the San Giovanni Battista - and with Diego Velázquez's Portrait of Juan de Córdoba: four masterpieces very close over time, whose happy juxtaposition offers a reflection on the art of three protagonists of seventeenth-century painting, and above all, on the important role of the "Caravaggio of Spain", nickname referred to Zurbaràn by the Spanish biographer Antonio Palomino in his Lives of the artists of 1724.
Photo credits: courtesy of the Capitoline Museums official site
Informations
When
from 16 March 2022
to 15 May 2022
POINT (12.483342 41.892692)
POINT (12.482211 41.893485)
Contacts
Web site:
www.museicapitolini.org/mostra-evento/zurbar-n-roma
Timetables
From March 16 to May 15, 2022
Every day 9.30 - 19.30
Last admission one hour before closing time
Closed: 1 May
Before planning the visit, CONSULT THE NOTICES
Condividi
Locations
Zurbarán a Roma. Il San Francesco del Saint Louis Art Museum tra Caravaggio e Velázquez, Piazza del Campidoglio, 1
Piazza del Campidoglio, 1
41° 53' 33.6912" N, 12° 29' 0.0312" E
Zurbarán a Roma. Il San Francesco del Saint Louis Art Museum tra Caravaggio e Velázquez, Via delle Tre Pile, 1
41° 53' 36.546" N, 12° 28' 55.9596" E