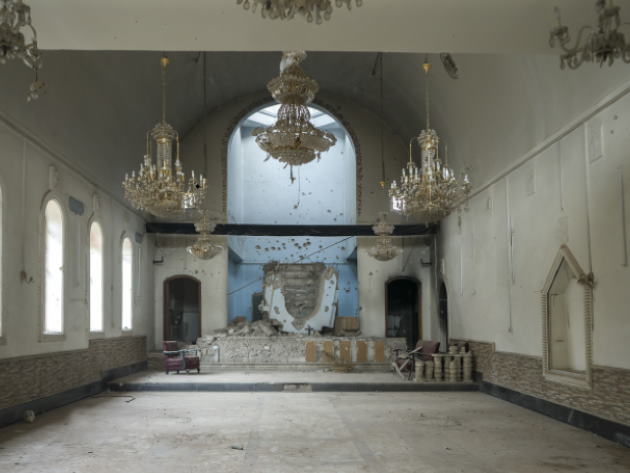 A portrait without rhetoric and sensationalism of the city of Mosul in the days of its reconstruction, a few months after the end of the occupation by the IS jihadists, that is, when everyday life returned timidly to reappear in the rubble of war thanks to the resilience of its inhabitants.
The author of the 18 large-format pictures on display at the Museo di Roma in Trastevere is Begoña Zubero, a photographer and artist from Bilbao who often worked in Italy. Her works, characterized by great intellectual depth and always focused on the preservation of memory, are present in important collections, including the Collezione Fondazione MAXXI (Rome), the Colección Sánchez-Ubiría (Madrid), the Fundación Bilbao Arte and the Colección de la Academia de España en Roma.
The photographs are part of a project carried out by Begoña Zubero at the end of 2018, during her two-month residency in Iraq at the Moving Artists, a non-profit organization that seeks to enable movement and transnational exchange for cultural workers whose practice is threatened by situations of conflict or isolation. NEEEV is not a photojournalism or purely documentary project, even if it is partly based on this. Rather, it is an interpretation of a reality that remains largely unknown and distant despite the information we believe we have: a kaleidoscope of images, taken using both wide-angle and telephoto lens, that aim to bring the viewer closer to the feeling of uncertainty and dualism of a present enveloped in a perverse historical repetition.
Informations
When
from 20 January 2022
to 22 May 2022
POINT (12.4689868 41.8900398)
Contacts
Web site:
www.museodiromaintrastevere.it/mostra-evento/neeev-non-esotico-vitale-fotografie-di-bego-zubero
Timetables
From January 20 to May 22, 2022
On 20 January, a preview of the exhibition, free of charge, with compulsory reservation at 060608 (every day from 9. 00 to 19. 00) at 16.30, 17.30, 18.30, 19.00.
From Tuesday to Sunday 10.00-20.00
Last admission one hour before closing time
Closed
Monday, 1 May
Before planning the visit, CONSULT THE NOTICES  
Condividi
Location
NEEEV. Non è esotico, è vitale. Fotografie di Begoña Zubero, Piazza di Sant'Egidio, 1/b
Piazza di Sant'Egidio, 1/b
41° 53' 24.144" N, 12° 28' 8.3532" E